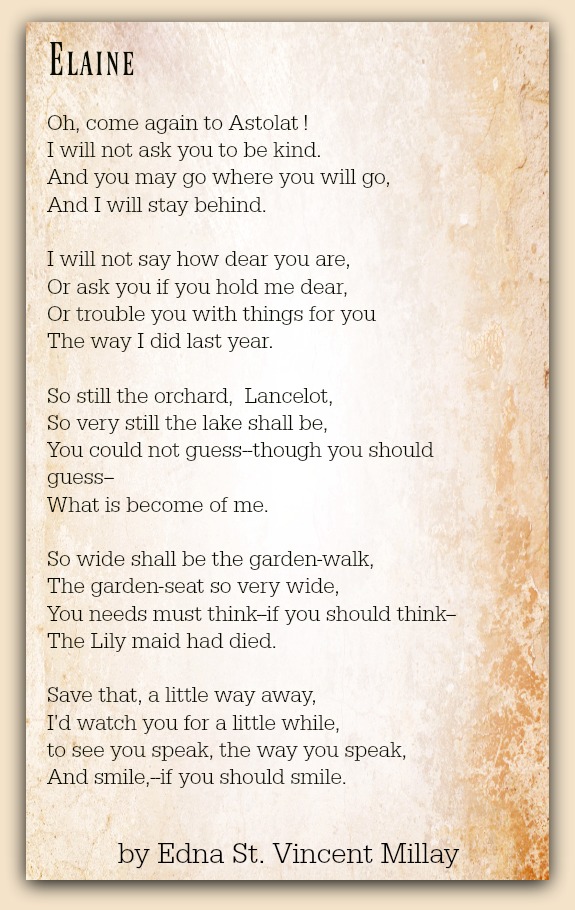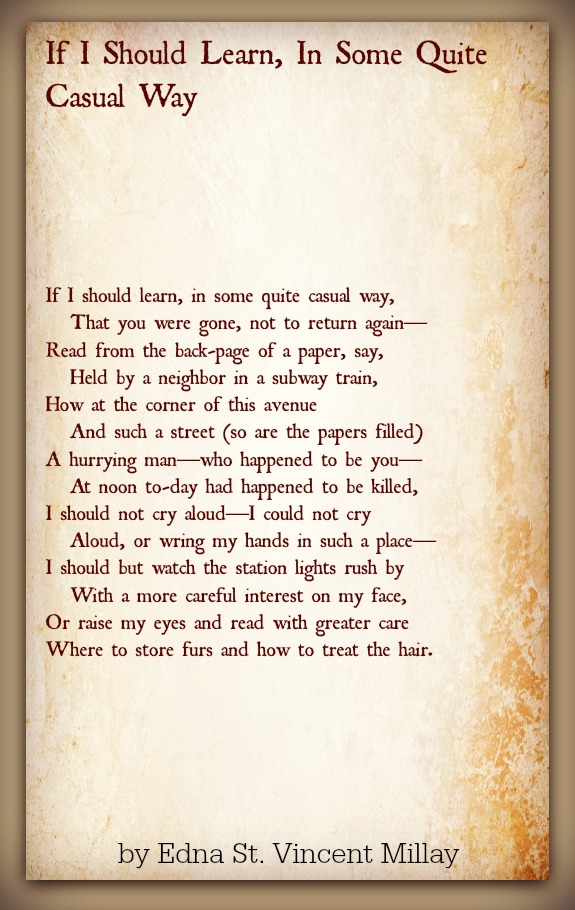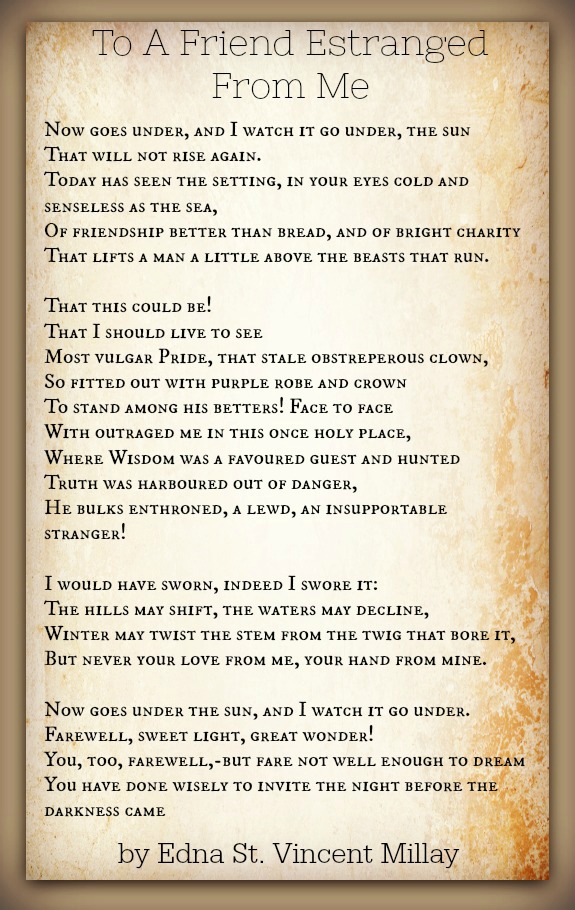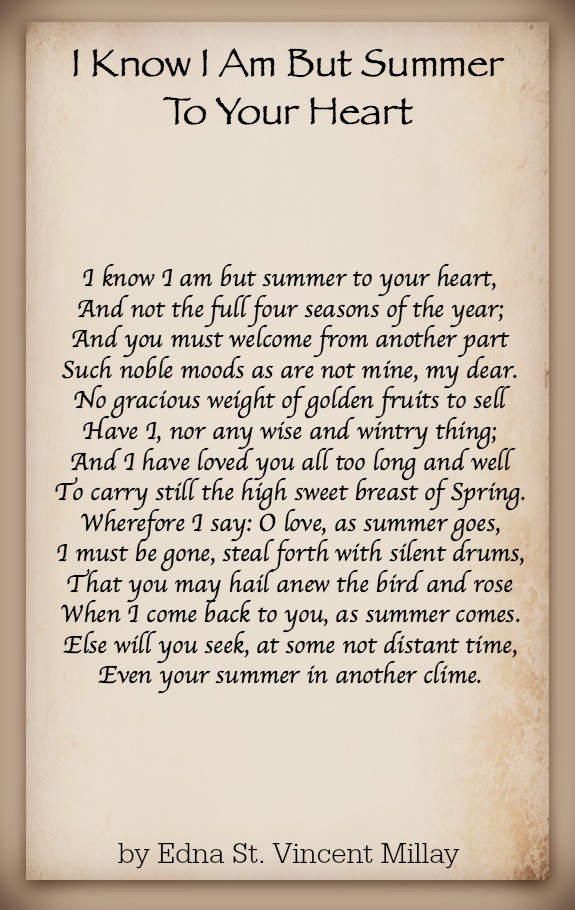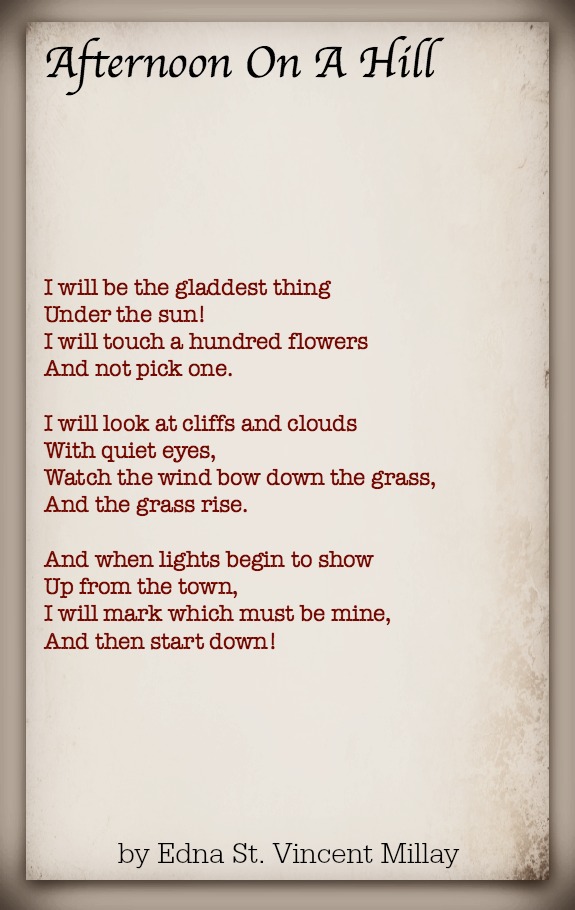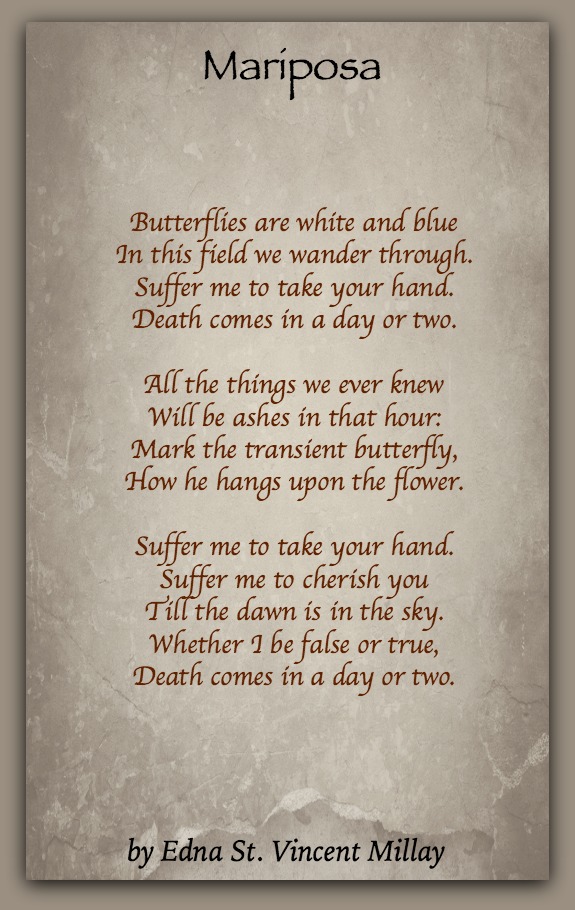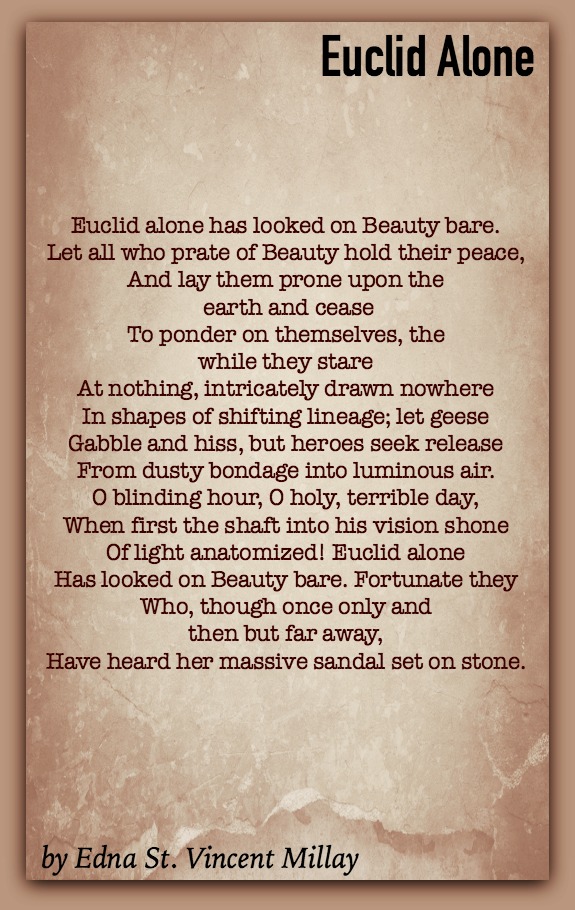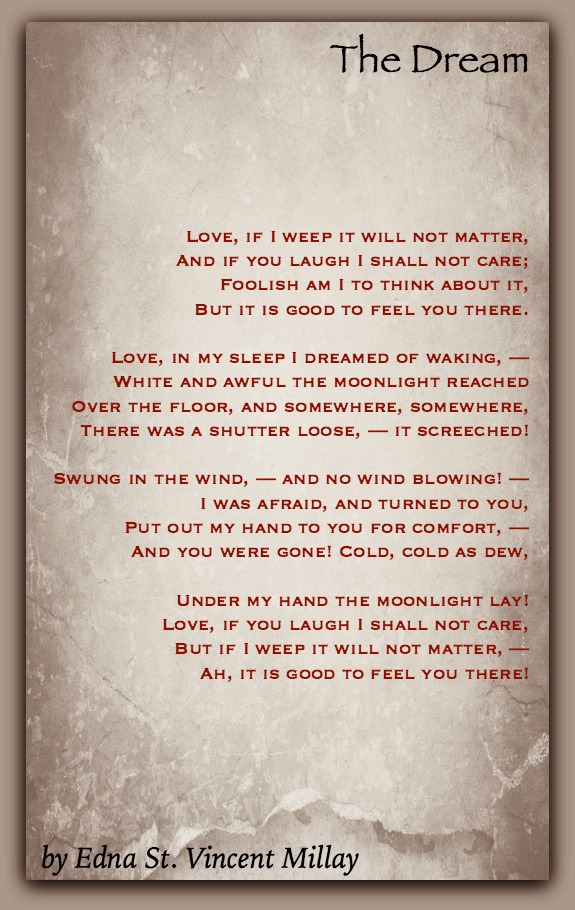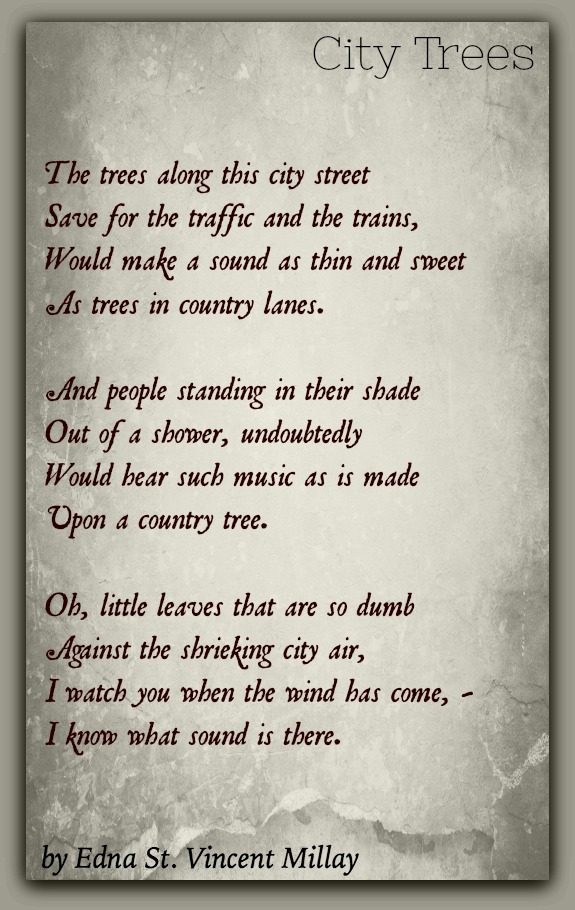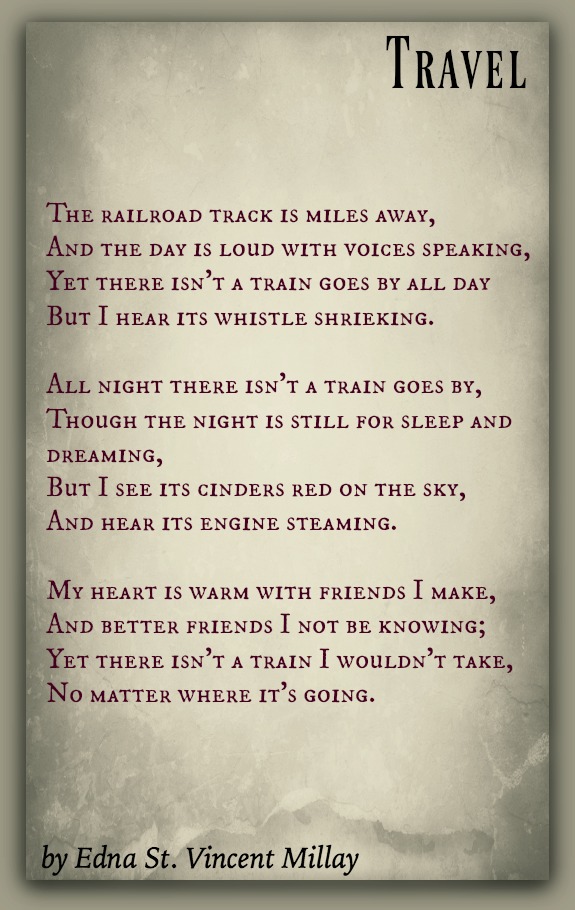 An Ancient Gesture

I thought, as I wiped my eyes on the corner of my apron:
Penelope did this too.
And more than once: you can't keep weaving all day
And undoing it all through the night;
Your arms get tired, and the back of your neck gets tight;
And along towards morning, when you think it will never be light,
And your husband has been gone, and you don't know where, for years.
Suddenly you burst into tears;
There is simply nothing else to do.

And I thought, as I wiped my eyes on the corner of my apron:
This is an ancient gesture, authentic, antique,
In the very best tradition, classic, Greek;
Ulysses did this too.
But only as a gesture,—a gesture which implied
To the assembled throng that he was much too moved to speak.
He learned it from Penelope…
Penelope, who really cried.
If I Should Learn, In Some Quite Casual Way

If I should learn, in some quite casual way,
That you were gone, not to return again—
Read from the back-page of a paper, say,
Held by a neighbor in a subway train,
How at the corner of this avenue
And such a street (so are the papers filled)
A hurrying man—who happened to be you—
At noon to-day had happened to be killed,
I should not cry aloud—I could not cry
Aloud, or wring my hands in such a place—
I should but watch the station lights rush by
With a more careful interest on my face,
Or raise my eyes and read with greater care
Where to store furs and how to treat the hair.
To A Friend Estranged From Me

Now goes under, and I watch it go under, the sun
That will not rise again.
Today has seen the setting, in your eyes cold and senseless as the sea,
Of friendship better than bread, and of bright charity
That lifts a man a little above the beasts that run.

That this could be!
That I should live to see
Most vulgar Pride, that stale obstreperous clown,
So fitted out with purple robe and crown
To stand among his betters! Face to face
With outraged me in this once holy place,
Where Wisdom was a favoured guest and hunted
Truth was harboured out of danger,
He bulks enthroned, a lewd, an insupportable stranger!

I would have sworn, indeed I swore it:
The hills may shift, the waters may decline,
Winter may twist the stem from the twig that bore it,
But never your love from me, your hand from mine.

Now goes under the sun, and I watch it go under.
Farewell, sweet light, great wonder!
You, too, farewell,-but fare not well enough to dream
You have done wisely to invite the night before the darkness came.

Apostrophe To Man
(On reflecting that the world
is ready to go to war again)

Detestable race, continue to expunge yourself, die out.
Breed faster, crowd, encroach, sing hymns, build
bombing airplanes;
Make speeches, unveil statues, issue bonds, parade;
Convert again into explosives the bewildered ammonia
and the distracted cellulose;
Convert again into putrescent matter drawing flies
The hopeful bodies of the young; exhort,
Pray, pull long faces, be earnest,
be all but overcome, be photographed;
Confer, perfect your formulae, commercialize
Bacteria harmful to human tissue,
Put death on the market;
Breed, crowd, encroach,
expand, expunge yourself, die out,
Homo called sapiens.

Recuerdo

We were very tired, we were very merry —
We had gone back and forth all night upon the ferry.
It was bare and bright, and smelled like a stable —
But we looked into a fire, we leaned across a table,
We lay on the hill-top underneath the moon;
And the whistles kept blowing, and the dawn came soon.


We were very tired, we were very merry —
We had gone back and forth all night on the ferry;
And you ate an apple, and I ate a pear,
From a dozen of each we had bought somewhere;
And the sky went wan, and the wind came cold,
And the sun rose dripping, a bucketful of gold.

We were very tired, we were very merry,
We had gone back and forth all night on the ferry.
We hailed, "Good morrow, mother!" to a shawl-covered head,
And bought a morning paper, which neither of us read;
And she wept, "God bless you!" for the apples and the pears,
And we gave her all our money but our subway fares

Conscientious Objector

I shall die, but
that is all that I shall do for Death.
I hear him leading his horse out of the stall;
I hear the clatter on the barn-floor.
He is in haste; he has business in Cuba,
business in the Balkans, many calls to make this morning.
But I will not hold the bridle
while he clinches the girth.
And he may mount by himself:
I will not give him a leg up.

Though he flick my shoulders with his whip,
I will not tell him which way the fox ran.
With his hoof on my breast, I will not tell him where
the black boy hides in the swamp.
I shall die, but that is all that I shall do for Death;
I am not on his pay-roll.

I will not tell him the whereabout of my friends
nor of my enemies either.
Though he promise me much,
I will not map him the route to any man's door.
Am I a spy in the land of the living,
that I should deliver men to Death?
Brother, the password and the plans of our city
are safe with me; never through me Shall you be overcome
Afternoon On A Hill

I will be the gladdest thing
Under the sun!
I will touch a hundred flowers
And not pick one.

I will look at cliffs and clouds
With quiet eyes,
Watch the wind bow down the grass,
And the grass rise.

And when lights begin to show
Up from the town,
I will mark which must be mine,
And then start down!



Sorrow

Sorrow like a ceaseless rain
Beats upon my heart.
People twist and scream in pain, —
Dawn will find them still again;
This has neither wax nor wane,
Neither stop nor start.
People dress and go to town;
I sit in my chair.
All my thoughts are slow and brown:
Standing up or sitting down
Little matters, or what gown
Or what shoes I wear.
When The Year Grows Old

I cannot but remember
When the year grows old —
October — November —
How she disliked the cold!

She used to watch the swallows
Go down across the sky,
And turn from the window
With a little sharp sigh.

And often when the brown leaves
Were brittle on the ground,
And the wind in the chimney
Made a melancholy sound.

She had a look about her
That I wish I could forget —
The look of a scared thing
Sitting in a net!

Oh, beautiful at nightfall
The soft spitting snow!
And beautiful the bare boughs
Rubbing to and fro!

But the roaring of the fire,
And the warmth of fur,
And the boiling of the kettle
Were beautiful to her!

I cannot but remember
When the year grows old —
October — November —
How she disliked the cold!

Song Of A Second April

April this year, not otherwise
Than April of a year ago,
Is full of whispers, full of sighs,
Of dazzling mud and dingy snow;
Hepaticas that pleased you so
Are here again, and butterflies.

There rings a hammering all day,
And shingles lie about the doors;
In orchards near and far away
The grey wood-pecker taps and bores;
The men are merry at their chores,
And children earnest at their play.

The larger streams run still and deep,
Noisy and swift the small brooks run
Among the mullein stalks the sheep
Go up the hillside in the sun,
Pensively,—only you are gone,
You that alone I cared to keep.
Indifference

I said,—for Love was laggard, O, Love was slow to come,—
"I'll hear his step and know his step when I am warm in bed;
But I'll never leave my pillow, though there be some
As would let him in—and take him in with tears!" I said.
I lay,—for Love was laggard, O, he came not until dawn,—
I lay and listened for his step and could not get to sleep;
And he found me at my window with my big cloak on,
All sorry with the tears some folks might weep!
I Think I Should Have Loved You Presently

I think I should have loved you presently,
And given in earnest words I flung in jest;
And lifted honest eyes for you to see,
And caught your hand against my cheek and breast;
And all my pretty follies flung aside
That won you to me, and beneath your gaze,
Naked of reticence and shorn of pride,
Spread like a chart my little wicked ways.
I, that had been to you, had you remained,
But one more waking from a recurrent dream,
Cherish no less the certain stakes I gained,
And walk your memory's halls, austere, supreme,
A ghost in marble of a girl you knew
Who would have loved you in a day or two.
Feast

I drank at every vine.
The last was like the first.
I came upon no wine
So wonderful as thirst.
I gnawed at every root.
I ate of every plant.
I came upon no fruit
So wonderful as want.
Feed the grape and bean
To the vintner and monger;
I will lie down lean
With my thirst and my hunger.
Sonnet: What Lips My Lips Have Kissed

What lips my lips have kissed, and where, and why,
I have forgotten, and what arms have lain
Under my head till morning; but the rain
Is full of ghosts tonight, that tap and sigh
Upon the glass and listen for reply,
And in my heart there stirs a quiet pain
For unremembered lads that not again
Will turn to me at midnight with a cry.
Thus in winter stands the lonely tree,
Nor knows what birds have vanished one by one,
Yet knows its boughs more silent than before:
I cannot say what loves have come and gone,
I only know that summer sang in me
A little while, that in me sings no more.
First Fig

My candle burns at both ends;
It will not last the night;
But ah, my foes, and oh, my friends —
It gives a lovely light!