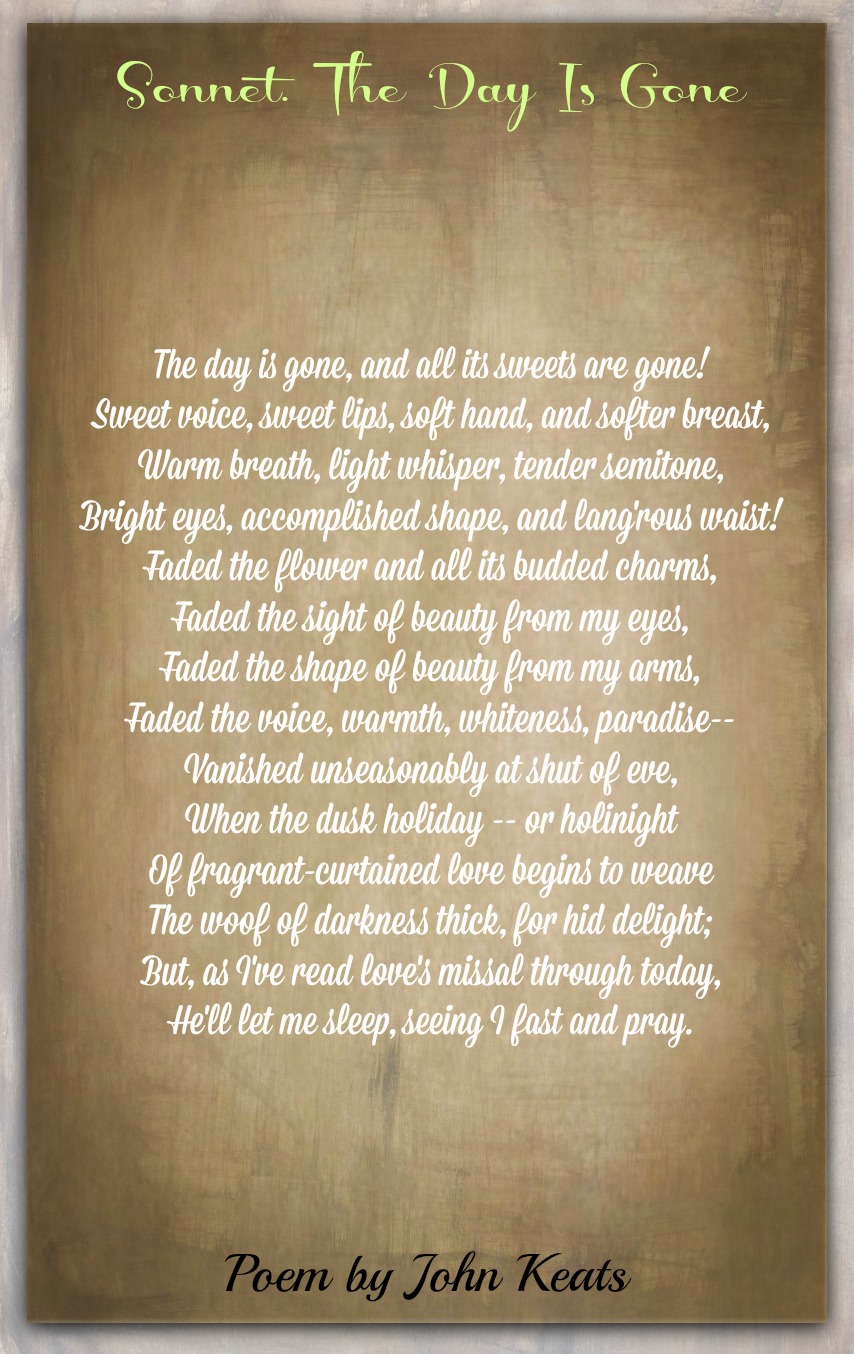 Sonnet. On Peace

O PEACE! and dost thou with thy presence bless
The dwellings of this war-surrounded Isle;
Soothing with placid brow our late distress,
Making the triple kingdom brightly smile?
Joyful I hail thy presence; and I hail
The sweet companions that await on thee;
Complete my joy let not my first wish fail,
Let the sweet mountain nymph thy favourite be,
With England's happiness proclaim Europa's Liberty.
O Europe! let not sceptred tyrants see
That thou must shelter in thy former state;
Keep thy chains burst, and boldly say thou art free;
Give thy kings law leave not uncurbed the great ;
So with the horrors past thou'lt win thy happier fate!
Two Or Three

Two or three Posies
With two or three simples--
Two or three Noses
With two or three pimples--
Two or three wise men
And two or three ninny's--
Two or three guineas--
Two or three raps
At two or three doors--
Two or three naps
Of two or three hours--
Two or three Cats
And two or three mice--
Two or three sprats
At a very great price--
Two or three sandies
And two or three tabbies--
Two or three dandies
And two Mrs.------
Two or three Smiles
And two or three frowns--
Two or three Miles
To two or three towns--
Two or three pegs
For two or three bonnets--
Two or three dove eggs
To hatch into sonnets.

An Extempore

When they were come into Faery's Court
They rang -- no one at home -- all gone to sport
And dance and kiss and love as faerys do
For Faries be as human lovers true --
Amid the woods they were so lone and wild
Where even the Robin feels himself exil'd
And where the very books as if affraid
Hurry along to some less magic shade.
'No one at home'! the fretful princess cry'd
'And all for nothing such a dre[a]ry ride
And all for nothing my new diamond cross
No one to see my persian feathers toss
No one to see my Ape, my Dwarf, my Fool
Or how I pace my Otaheitan mule.
Ape, Dwarf and Fool why stand you gaping there
Burst the door open, quick -- or I declare
I'll switch you soundly and in pieces tear.'
The Dwarf began to tremble and the Ape
Star'd at the Fool, the Fool was all agape
The Princess grasp'd her switch but just in time
The Dwarf with piteous face began to rhyme.
"O mighty Princess did you ne'er hear tell
What your poor servants know but too too well
Know you the three great crimes in faery land
The first alas! poor Dwarf I understand
I made a whipstock of a faery's wand
The next is snoring in their company
The next the last the direst of the three
Is making free when they are not at home.
I was a Prince -- a baby prince -- my doom
You see, I made a whipstock of a wand
My top has henceforth slept in faery land.
He was a Prince the Fool, a grown up Prince
But he has never been a King's son since
He fell a snoring at a faery Ball
Your poor Ape was a Prince and he poor thing
But ape -- so pray your highness stay awhile
'Tis sooth indeed we know it to our sorrow --
Persist and you may be an ape tomorrow --
While the Dwarf spake the Princess all for spite
Peal'd the brown hazel twig to lilly white
Clench'd her small teeth, and held her lips apart
Try'd to look unconcerned with beating heart.
They saw her highness had made up her mind
And quaver'd like the reeds before the wind
And they had had it, but O happy chance
The Ape for very fear began to dance
And grin'd as all his uglyness did ache--
She staid her vixen fingers for his sake
He was so very ugly: then she took
Her pocket mirror and began to look
First at herself and [then] at him and then
She smil'd at her own beauteous face again.
Yet for all this -- for all her pretty face
She took it in her head to see the place.
Women gain little from experience
Either in Lovers, husbands or expense.
The more their beauty the more fortune too
Beauty before the wide world never knew.
So each fair reasons -- tho' it oft miscarries.
She thought her pretty face would please the fa[e]ries.
"My darling Ape I wont whip you today
Give me the Picklock sirrah and go play."
They all three wept but counsel was as vain
As crying cup biddy to drops of rain.
Yet lingeringly did the sad Ape forth draw
The Picklock from the Pocket in his Jaw.
The Princess took it and dismounting straight
Trip'd in blue silver'd slippers to the gate
And touch'd the wards, the Door full courteously
Opened -- she enter'd with her servants three.
Again it clos'd and there was nothing seen
But the Mule grasing on the herbage green.
End of Canto xii.

Canto the xiii.
The Mule no sooner saw himself alone
Than he prick'd up his Ears -- and said 'well done!
At least unhappy Prince I may be free --
No more a Princess shall side saddle me
O King of Othaiete -- tho' a Mule
'Aye every inch a King' -- tho' 'Fortune's fool.'
Well done -- for by what Mr. Dwarfy said
I would not give a sixpence for her head.'
Even as he spake he trotted in high glee
To the knotty side of an old Pollard tree
And rub'd his sides against the mossed bark
Till his Girths burst and left him naked stark
Except his Bridle -- how get rid of that
Buckled and tied with many a twist and plait.
At last it struck him to pretend to sleep
And then the thievish Monkies down would creep
And filch the unpleasant trammels quite away.
No sooner thought of than adown he lay
Sham'd a good snore -- the Monkey-men descended
And whom they thought to injure they befriended.
They hung his Bridle on a topmost bough
And of[f] he went run, trot, or anyhow--

Fragment Of "The Castle Builder."

To-night I'll have my friar -- let me think
About my room, -- I'll have it in the pink;
It should be rich and sombre, and the moon,
Just in its mid-life in the midst of June,
Should look thro' four large windows and display
Clear, but for gold-fish vases in the way,
Their glassy diamonding on Turkish floor;
The tapers keep aside, an hour and more,
To see what else the moon alone can show;
While the night-breeze doth softly let us know
My terrace is well bower'd with oranges.
Upon the floor the dullest spirit sees
A guitar-ribband and a lady's glove
Beside a crumple-leaved tale of love;
A tambour-frame, with Venus sleeping there,
All finish'd but some ringlets of her hair;
A viol, bow-strings torn, cross-wise upon
A glorious folio of Anacreon;
A skull upon a mat of roses lying,
Ink'd purple with a song concerning dying;
An hour-glass on the turn, amid the trails
Of passion-flower; -- just in time there sails
A cloud across the moon, -- the lights bring in!
And see what more my phantasy can win.
It is a gorgeous room, but somewhat sad;
The draperies are so, as tho' they had
Been made for Cleopatra's winding-sheet;
And opposite the stedfast eye doth meet
A spacious looking-glass, upon whose face,
In letters raven-sombre, you may trace
Old "Mene, Mene, Tekel Upharsin."
Greek busts and statuary have ever been
Held, by the finest spirits, fitter far
Than vase grotesque and Siamesian jar;
Therefore 'tis sure a want of Attic taste
That I should rather love a Gothic waste
Of eyesight on cinque-coloured potter's clay,
Than on the marble fairness of old Greece.
My table-coverlits of Jason's fleece
And black Numidian sheep-wool should be wrought,
Gold, black, and heavy, from the Lama brought.
My ebon sofas should delicious be
With down from Leda's cygnet progeny.
My pictures all Salvator's, save a few
Of Titian's portraiture, and one, though new,
Of Haydon's in its fresh magnificence.
My wine -- O good! 'tis here at my desire,
And I must sit to supper with my friar.


A Galloway Song

Ah! ken ye what I met the day
Out oure the Mountains
A coming down by craggi[e]s grey
An mossie fountains --
A[h] goud hair'd Marie yeve I pray
Ane minute's guessing --
For that I met upon the way
Is past expressing.
As I stood where a rocky brig
A torrent crosses
I spied upon a misty rig
A troup o' Horses --
And as they trotted down the glen
I sped to meet them
To see if I might know the Men
To stop and greet them.
First Willie on his sleek mare came
At canting gallop --
His long hair rustled like a flame
On board a shallop.
Then came his brother Rab and then
Young Peggy's Mither
And Peggy too -- adown the glen
They went togither --
I saw her wrappit in her hood
Fra wind and raining --
Her cheek was flush wi' timid blood
'Twixt growth and waning --
She turn'd her dazed head full oft
For there her Brithers
Came riding with her Bridegroom soft
And mony ithers.
Young Tam came up an' eyed me quick
With reddened cheek --
Braw Tam was daffed like a chick --
He coud na speak --
Ah Marie they are all gane hame
Through blustering weather
An' every heart is full on flame
Ah! Marie they are all gone hame
Fra happy wedding,
Whilst I -- Ah is it not a shame?
Sad tears am shedding.

You Say You Love
I
You say you love ; but with a voice
Chaster than a nun's, who singeth
The soft Vespers to herself
While the chime-bell ringeth-
O love me truly!

II
You say you love; but with a smile
Cold as sunrise in September,
As you were Saint Cupid 's nun,
And kept his weeks of Ember.
O love me truly!

III
You say you love but then your lips
Coral tinted teach no blisses,
More than coral in the sea
They never pout for kisses
O love me truly!

IV
You say you love ; but then your hand
No soft squeeze for squeeze returneth,
It is like a statue's dead
While mine to passion burneth
O love me truly!

V
O breathe a word or two of fire!
Smile, as if those words should bum me,
Squeeze as lovers should O kiss
And in thy heart inurn me!
O love me truly!

To The Ladies Who Saw Me Crowned

WHAT is there in the universal Earth
More lovely than a Wreath from the bay tree?
Haply a Halo round the Moon a glee
Circling from three sweet pair of Lips in Mirth;
And haply you will say the dewy birth
Of morning Roses ripplings tenderly
Spread by the Halcyon's breast upon the Sea
But these Comparisons are nothing worth
Then is there nothing in the world so fair?
The silvery tears of April? Youth of May?
Or June that breathes out life for butterflies?
No none of these can from my favourite bear
Away the Palm yet shall it ever pay
Due Reverence to your most sovereign eyes.

Meg Merrilies

Old Meg she was a gipsy;
And liv'd upon the moors:
Her bed it was the brown heath turf,
And her house was out of doors.

Her apples were swart blackberries,
Her currants, pods o' broom;
Her wine was dew of the wild white rose,
Her book a church-yard tomb.

Her brothers were the craggy hills,
Her sisters larchen trees;
Alone with her great family
She liv'd as she did please.

No breakfast had she many a morn,
No dinner many a noon,
And 'stead of supper she would stare
Full hard against the moon.

But every morn, of woodbine fresh
She made her garlanding,
And every night the dark glen yew
She wove, and she would sing.

And with her fingers old and brown
She plaited mats o' rushes,
And gave them to the cottagers
She met among the bushes.

Old Meg was brave as Margaret Queen,
And tall as Amazon:
An old red blanket cloak she wore,
A chip hat had she on.
God rest her aged bones somewhere--
She died full long agone!

Sonnet: Before He Went

BEFORE he went to feed with owls and bats
Nebuchadnezzar had an ugly dream,
Worse than an Hus'if's when she thinks her cream
Made a Naumachia for mice and rats.
So scared, he sent for that "Good King of Cats"
Young Daniel, who soon did pluck away the beam
From out his eye, and said he did not deem
The sceptre worth a straw his Cushions old door-mats.
A horrid nightmare similar somewhat
Of late has haunted a most motley crew,
Most loggerheads and Chapmen we are told
That any Daniel tho' he be a sot
Can make the lying lips turn pale of hue
By belching out "ye are that head of Gold."

Lines Rhymed In A Letter From Oxford

I.
The Gothic looks solemn,
The plain Doric column
Supports an old Bishop and Crosier;
The mouldering arch,
Shaded o'er by a larch
Stands next door to Wilson the Hosier.

II.
Vice--that is, by turns,--
O'er pale faces mourns
The black tassell'd trencher and common hat;
The Chantry boy sings,
The Steeple-bell rings,
And as for the Chancellor--dominat.

III.
There are plenty of trees,
And plenty of ease,
And plenty of fat deer for Parsons;
And when it is venison,
Short is the benison,--
Then each on a leg or thigh fastens.

Hither, Hither, Love

Hither hither, love--
'Tis a shady mead--
Hither, hither, love!
Let us feed and feed!

Hither, hither, sweet--
'Tis a cowslip bed--
Hither, hither, sweet!
'Tis with dew bespread!

Hither, hither, dear
By the breath of life,
Hither, hither, dear!--
Be the summer's wife!

Though one moment's pleasure
In one moment flies--
Though the passion's treasure
In one moment dies;--

Yet it has not passed--
Think how near, how near!--
And while it doth last,
Think how dear, how dear!

Hither, hither, hither
Love its boon has sent--
If I die and wither
I shall die content!

On Receiving A Laurel Crown From Leigh Hunt

MINUTES are flying swiftly, and as yet
Nothing unearthly has enticed my brain
Into a delphic Labyrinth I would fain
Catch an unmortal thought to pay the debt
I owe to the kind Poet who has set
Upon my ambitious head a glorious gain.
Two bending laurel Sprigs 'tis nearly pain
To be conscious of such a Coronet.
Still time is fleeting, and no dream arises
Gorgeous as I would have it only I see
A Trampling down of what the world most prizes
Turbans and Crowns, and blank regality;
And then I run into most wild surmises
Of all the many glories that may be.

Sonnet On Sitting Down To Read King Lear Once Again

O GOLDEN tongued Romance, with serene lute!
Fair plumed Syren, Queen of far-away!
Leave melodizing on this wintry day,
Shut up thine olden pages, and be mute:
Adieu! for, once again, the fierce dispute
Betwixt damnation and impassion 'd clay
Must I burn through; once more humbly assay
The bitter-sweet of this Shakespearian fruit:
Chief Poet! and ye clouds of Albion,
Begetters of our deep eternal theme!
When through the old oak Forest I am gone,
Let me not wander in a barren dream,
But, when I am consumed in the fire,
Give me new Phoenix wings to fly at my desire.

This Living Hand

This living hand, now warm and capable
Of earnest grasping, would, if it were cold
And in the icy silence of the tomb,
So haunt thy days and chill thy dreaming nights
That thou wouldst wish thine own heart dry of blood
So in my veins red life might stream again,
And thou be conscience-calmed - see here it is -
I hold it towards you.

A Thing Of Beauty

A thing of beauty is a joy for ever:
Its loveliness increases; it will never
Pass into nothingness; but still will keep
A bower quiet for us, and a sleep
Full of sweet dreams, and health, and quiet breathing.

Therefore, on every morrow, are we wreathing
A flowery band to bind us to the earth,
Spite of despondence, of the inhuman dearth
Of noble natures, of the gloomy days,
Of all the unhealthy and o'er-darkened ways
Made for our searching: yes, in spite of all,
Some shape of beauty moves away the pall
From our dark spirits. Such the sun, the moon,
Trees old, and young, sprouting a shady boon
For simple sheep; and such are daffodils
With the green world they live in; and clear rills
That for themselves a cooling covert make
'Gainst the hot season; the mid-forest brake,
Rich with a sprinkling of fair musk-rose blooms:
And such too is the grandeur of the dooms
We have imagined for the mighty dead;
All lovely tales that we have heard or read:
An endless fountain of immortal drink,
Pouring unto us from the heaven's brink.

Nor do we merely feel these essences
For one short hour; no, even as the trees
That whisper round a temple become soon
Dear as the temple's self, so does the moon,
The passion poesy, glories infinite,
Haunt us till they become a cheering light
Unto our souls, and bound to us so fast
That, whether there be shine or gloom o'ercast,
They always must be with us, or we die.

Therefore, 'tis with full happiness that I
Will trace the story of Endymion.
The very music of the name has gone
Into my being, and each pleasant scene
Is growing fresh before me as the green
Of our own valleys: so I will begin
Now while I cannot hear the city's din;
Now while the early budders are just new,
And run in mazes of the youngest hue
About old forests; while the willow trails
Its delicate amber; and the dairy pails
Bring home increase of milk. And, as the year
Grows lush in juicy stalks, I'll smoothly steer
My little boat, for many quiet hours,
With streams that deepen freshly into bowers.
Many and many a verse I hope to write,
Before the daisies, vermeil rimmed and white,
Hide in deep herbage; and ere yet the bees
Hum about globes of clover and sweet peas,
I must be near the middle of my story.
O may no wintry season, bare and hoary,
See it half finished: but let Autumn bold,
With universal tinge of sober gold,
Be all about me when I make an end!
And now at once, adventuresome, I send
My herald thought into a wilderness:
There let its trumpet blow, and quickly dress
My uncertain path with green, that I may speed
Easily onward, thorough flowers and weed.

To Fanny

I cry your mercy--pity--love!--aye, love!
Merciful love that tantalizes not,
One-thoughted, never-wandering, guileless love,
Unmasked, and being seen--without a blot!
O! let me have thee whole,--all--all--be mine!
That shape, that fairness, that sweet minor zest
Of love, your kiss,--those hands, those eyes divine,
That warm, white, lucent, million-pleasured breast,--
Yourself--your soul--in pity give me all,
Withhold no atom's atom or I die,
Or living on, perhaps, your wretched thrall,
Forget, in the mist of idle misery,
Life's purposes,--the palate of my mind
Losing its gust, and my ambition blind!

Answer To A Sonnet By J.H.Reynolds

Dark eyes are dearer far
Than those that mock the hyacinthine bell.

Blue! 'Tis the life of heaven,—the domain
Of Cynthia,—the wide palace of the sun,—
The tent of Hesperus, and all his train,—
The bosomer of clouds, gold, gray, and dun.
Blue! 'Tis the life of waters:—Ocean
And all its vassal streams, pools numberless,
May rage, and foam, and fret, but never can
Subside, if not to dark-blue nativeness.
Blue! gentle cousin of the forest-green,
Married to green in all the sweetest flowers—
Forget-me-not,—the blue-bell,—and, that queen
Of secrecy, the violet: what strange powers
Hast thou, as a mere shadow! But how great,
When in an Eye thou art alive with fate!

Sonnet To Byron

Byron! how sweetly sad thy melody!
Attuning still the soul to tenderness,
As if soft Pity, with unusual stress,
Had touch'd her plaintive lute, and thou, being by,
Hadst caught the tones, nor suffer'd them to die.
O'ershadowing sorrow doth not make thee less
Delightful: thou thy griefs dost dress
With a bright halo, shining beamily,
As when a cloud the golden moon doth veil,
Its sides are ting'd with a resplendent glow,
Through the dark robe oft amber rays prevail,
And like fair veins in sable marble flow;
Still warble, dying swan! still tell the tale,
The enchanting tale, the tale of pleasing woe.

Imitation Of Spenser

Now Morning from her orient chamber came,
And her first footsteps touch'd a verdant hill;
Crowning its lawny crest with amber flame,
Silv'ring the untainted gushes of its rill;
Which, pure from mossy beds, did down distill,
And after parting beds of simple flowers,
By many streams a little lake did fill,
Which round its marge reflected woven bowers,
And, in its middle space, a sky that never lowers.

There the king-fisher saw his plumage bright
Vieing with fish of brilliant dye below;
Whose silken fins, and golden scales' light
Cast upward, through the waves, a ruby glow:
There saw the swan his neck of arched snow,
And oar'd himself along with majesty;
Sparkled his jetty eyes; his feet did show
Beneath the waves like Afric's ebony,
And on his back a fay reclined voluptuously.

Ah! could I tell the wonders of an isle
That in that fairest lake had placed been,
I could e'en Dido of her grief beguile;
Or rob from aged Lear his bitter teen:
For sure so fair a place was never seen,
Of all that ever charm'd romantic eye:
It seem'd an emerald in the silver sheen
Of the bright waters; or as when on high,
Through clouds of fleecy white, laughs the cœrulean sky.

And all around it dipp'd luxuriously
Slopings of verdure through the glossy tide,
Which, as it were in gentle amity,
Rippled delighted up the flowery side;
As if to glean the ruddy tears, it tried,
Which fell profusely from the rose-tree stem!
Haply it was the workings of its pride,
In strife to throw upon the shore a gem
Outviewing all the buds in Flora's diadem.

Sonnet IV. How Many Bards Gild The Lapses Of Time!

How many bards gild the lapses of time!
A few of them have ever been the food
Of my delighted fancy,—I could brood
Over their beauties, earthly, or sublime:
And often, when I sit me down to rhyme,
These will in throngs before my mind intrude:
But no confusion, no disturbance rude
Do they occasion; 'tis a pleasing chime.
So the unnumbered sounds that evening store;
The songs of birds—the whispering of the leaves—
The voice of waters—the great bell that heaves
With solemn sound,—and thousand others more,
That distance of recognizance bereaves,
Makes pleasing music, and not wild uproar.