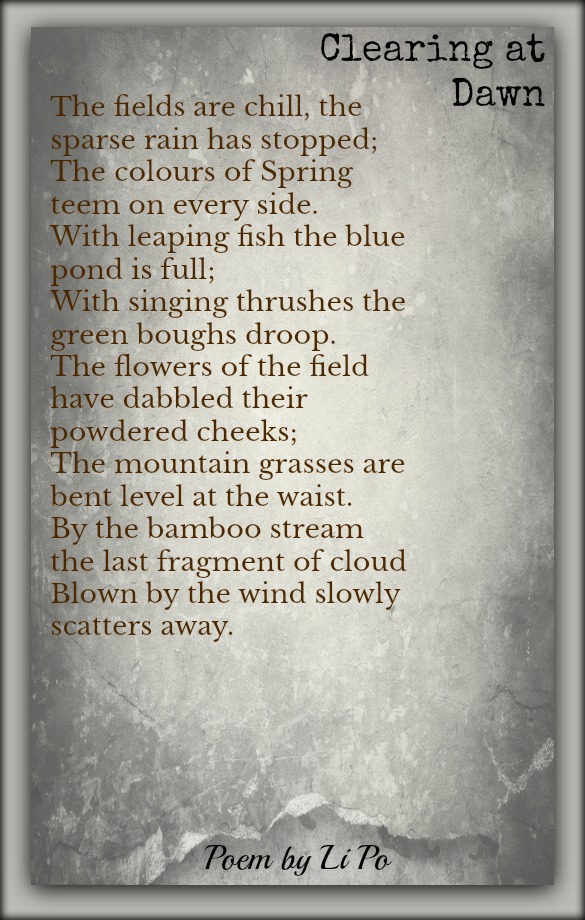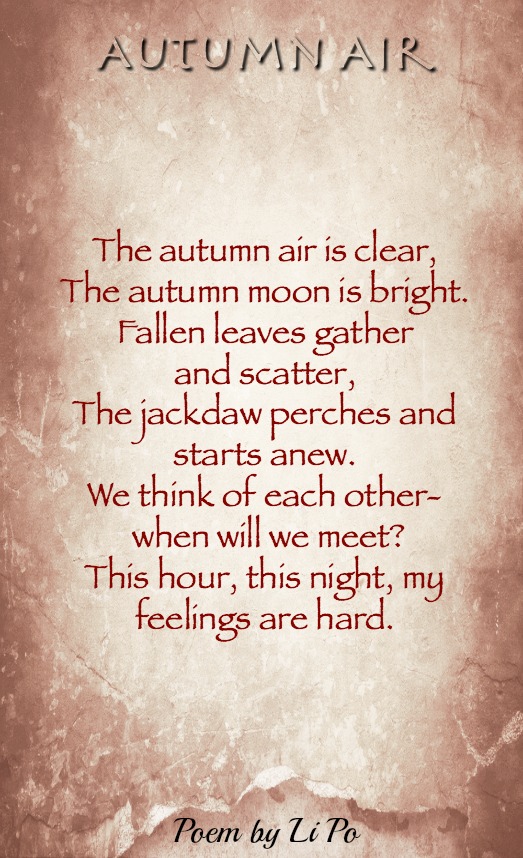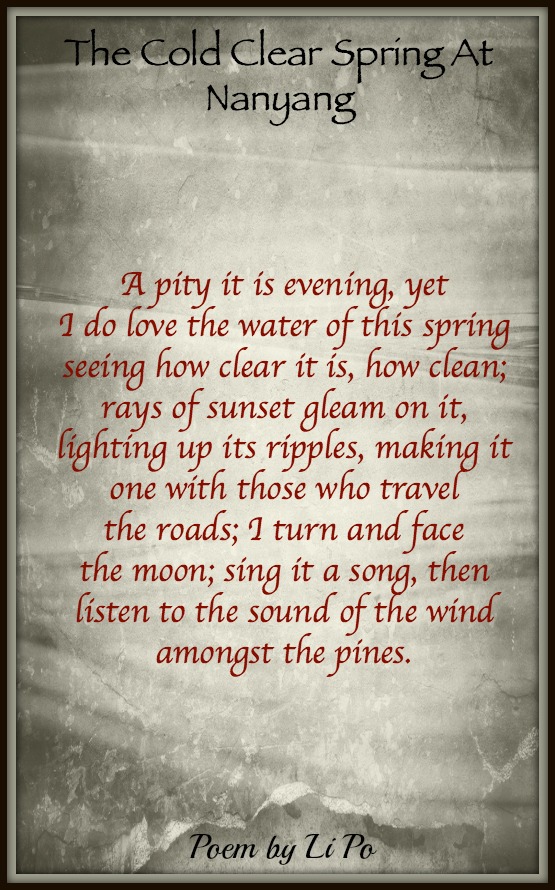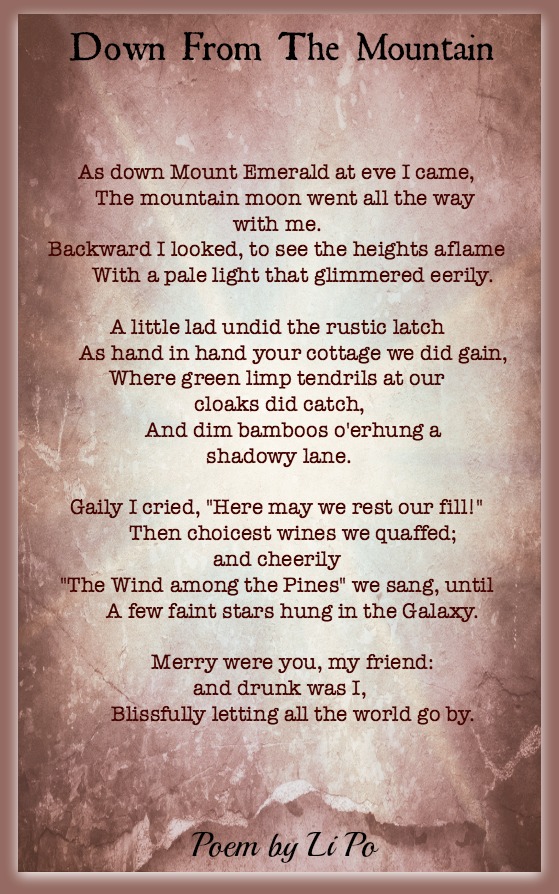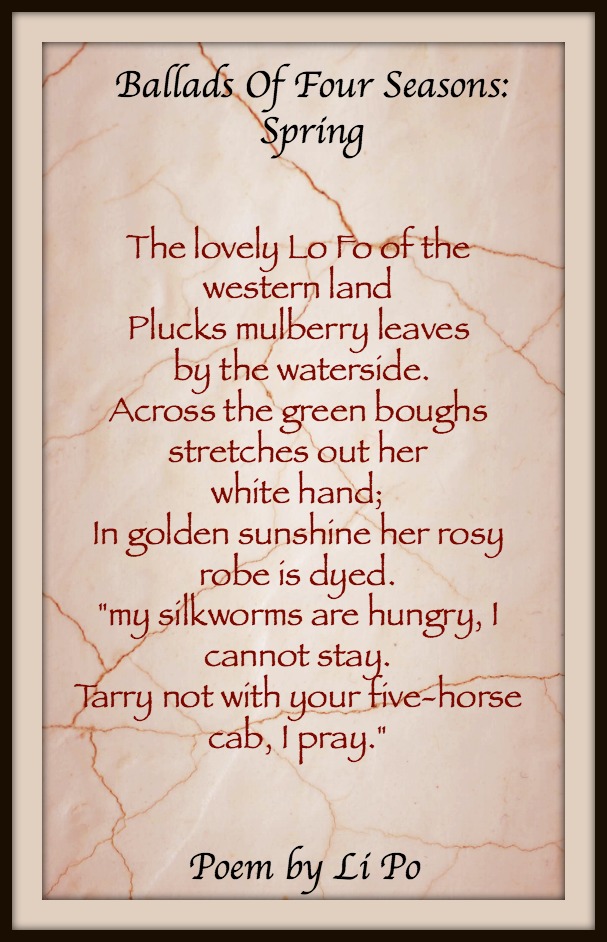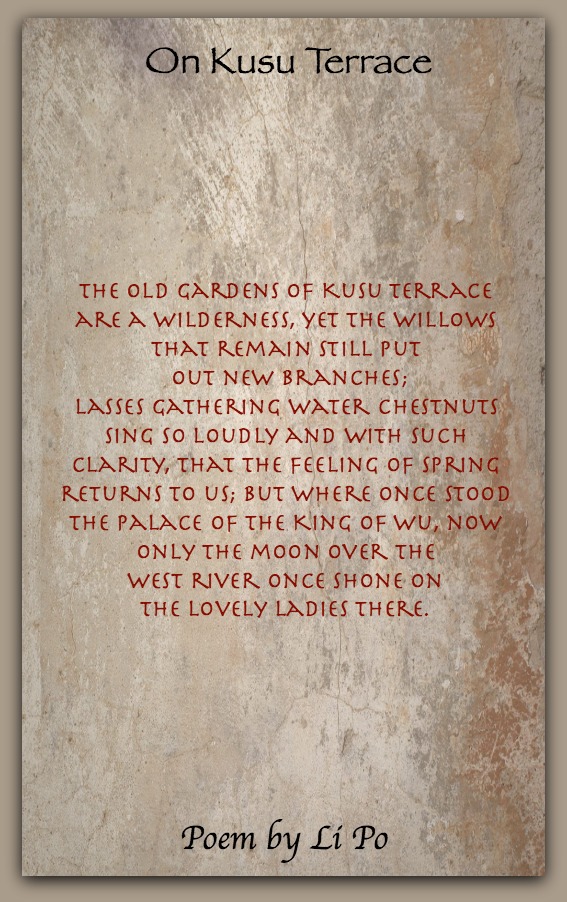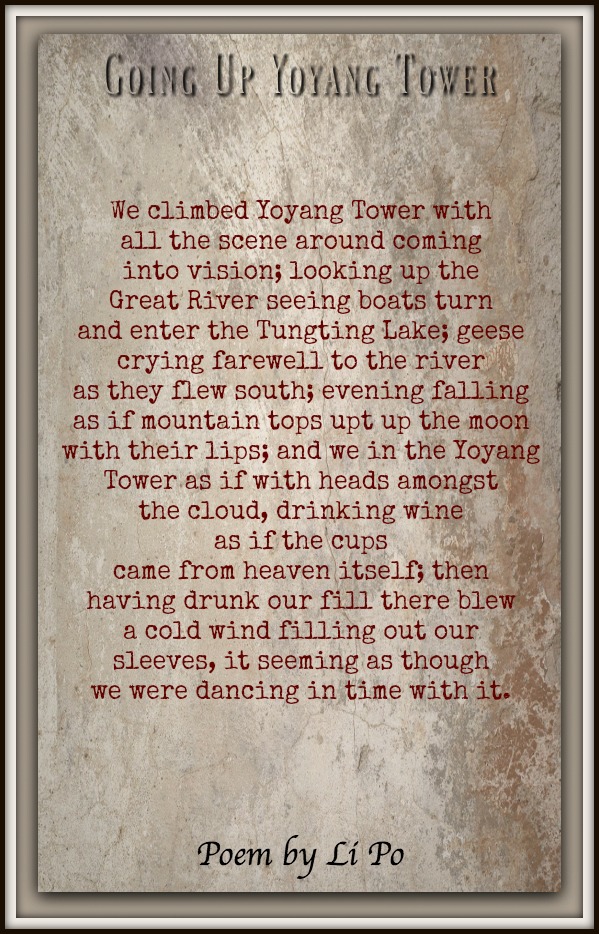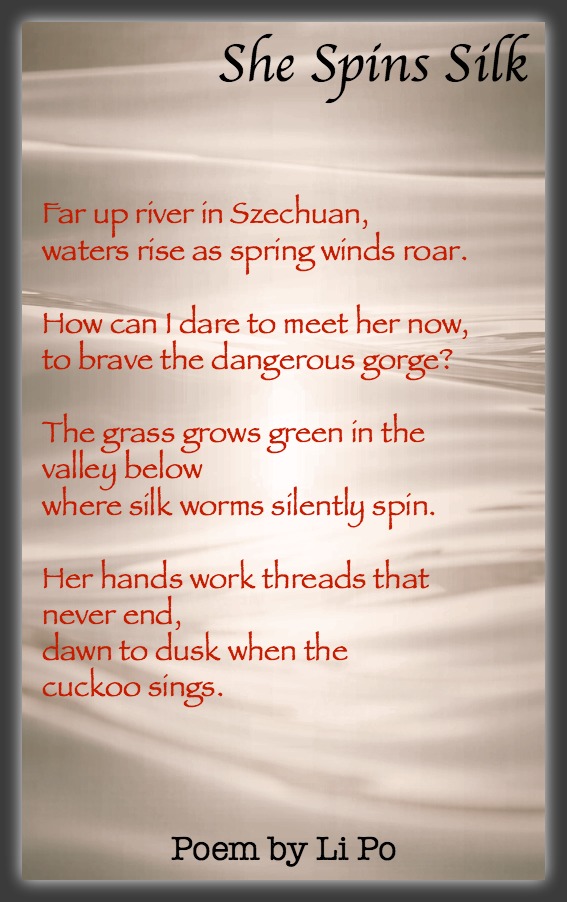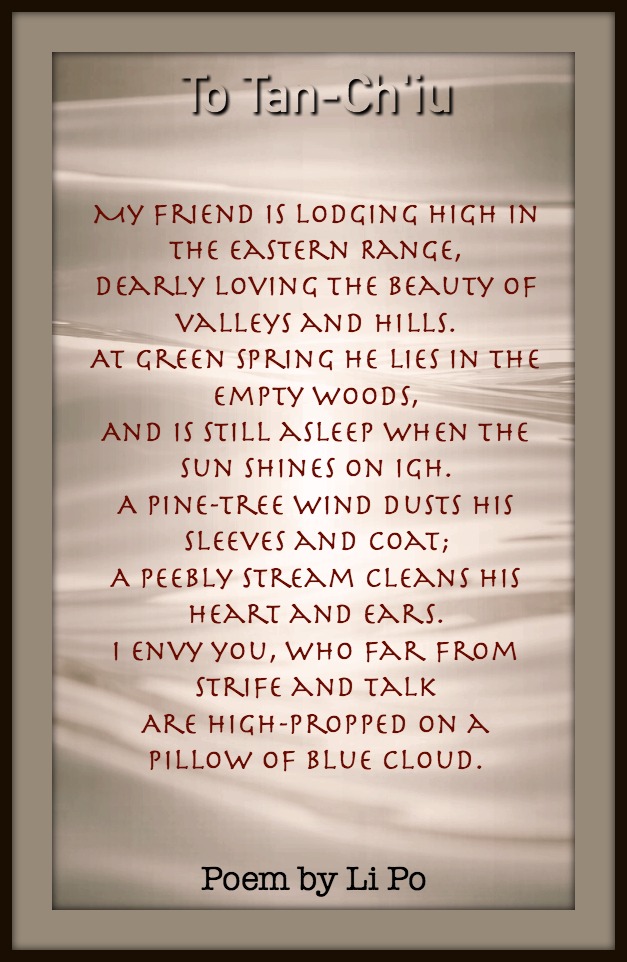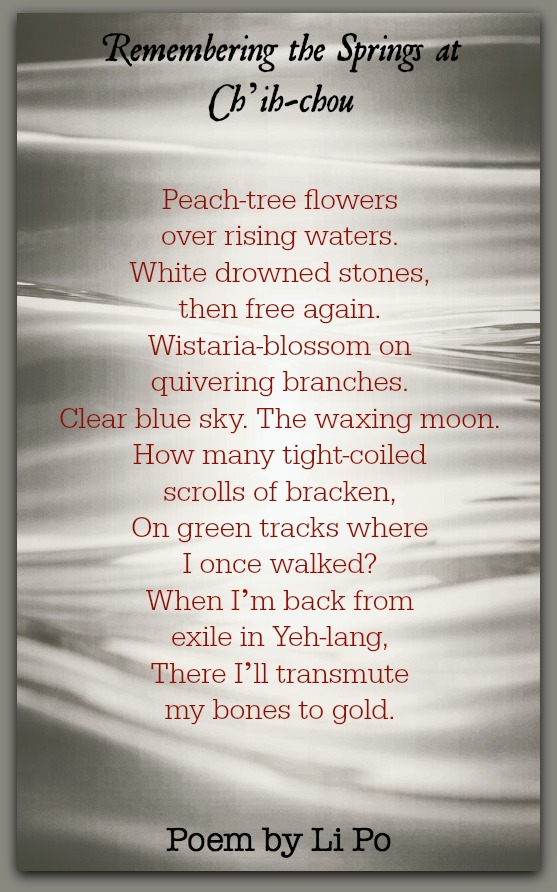 Yearning

Misted the flowers weep as light dies
Moon of white silk sleeplessly cries.
Stilled - Phoenix wings.
Touched - Mandarin strings.

This song tells secrets that no one knows
To far Yenjan on Spring breeze it goes.
To you it flies
Through the night skies.

Sidelong - Eyes. How
White tears fill now!
Heart's pain? Come see -
In this mirror with me.
We Fought for - South of the Walls



We fought for Mulberry Springs
Die now for Garlic River.
Wash our swords in Parthian Seas,
Feed our mounts on T'ien Shan snows.
Thousands of miles to and fro.
The Three Armies tired and old.
These Huns kill instead of ploughing,
Sow white bones in desert sand.
Ch'in built the Great Wall.
Han keeps the bright beacons.
These fires never die.
These wars never end.
Hand to hand we fight and fail,
Horses screaming to the skies.
Kites and crows pick at our flesh
Perch on dead trees with our dead.
We paint the grasses red,
Because our General had a plan.
The sword I say's an evil thing.
A wise man keeps it from his hand
Viewing Heaven's Gate Mountains

The River Chu cuts through the middle of heaven's gate,
The green water flowing east reaches here then swirls.
On either bank the blue hills face towards each other,
The flatness of a lonely sail comes from by of the sun.

To His Two Children

In the land of Wu the mulberry leaves are green,
And thrice the silkworms have gone to sleep.
In East Luh where my family stay,
I wonder who is sowing those fields of ours.
I cannot be back in time for the spring doings,
Yet I can help nothing, traveling on the river.
The south wind blowing wafts my homesick spirit
And carries it up to the front of our familiar tavern.
There I see a peach tree on the east side of the house
With thick leaves and branches waving in the blue mist.
It is the tree I planted before my parting three years ago.
The peach tree has grown now as tall as the tavern roof,
While I have wandered about without returning.
Ping-yang, my pretty daughter, I see you stand
By the peach tree and pluck a flowering branch.
You pluck the flowers, but I am not there
How your tears flow like a stream of water!
My little son, Po-chin, grown up to your sister's shoulders,
You come out with her under the peach tree,
But who is there to pat you on the back?
When I think of these things, my senses fail,
And a sharp pain cuts my heart every day.
Now I tear off a piece of white silk to write this letter,
And send it to you with my love a long way up the river.


Through The Yangzi Gorges

From the walls of Baidi high in the coloured dawn
To Jiangling by night-fall is three hundred miles,
Yet monkeys are still calling on both banks behind me
To my boat these ten thousand mountains away.


Thoughts On A Still Night

Before my bed, the moon is shining bright,
I think that it is frost upon the ground.
I raise my head and look at the bright moon,
I lower my head and think of home.

The River Song

This boat is of shato-wood, and its gunwales are
cut magnolia,
Musicians with jewelled flutes and with pipes of gold
Fill full the sides in rows, and our wine
Is rich for a thousand cups.
We carry singing girls, drift with the drifting water,
Yet Sennin needs
A yellow stork for a charger, and all our seamen
Would follow the white gulls or ride them.
Kutsu's prose song
Hangs with the sun and moon.

King So's terraced palace
is now but barren hill,
But I draw pen on this barge
Causing the five peaks to tremble,
And I have joy in these words
like the joy of blue islands.
(If glory could last forever
Then the waters of Han would flow northward.)

And I have moped in the Emperor's garden, await-
ing an order-to-write !
I looked at the dragon-pond, with its willow-
coloured water
Just reflecting the sky's tinge,
And heard the five-score nightingales aimlessly singing.

The eastern wind brings the green colour into the
island grasses at Yei-shu,
The purple house and the crimson are full of Spring
softness.
South of the pond the willow-tips are half-blue and
bluer,
Their cords tangle in mist, against the brocade-like
palace.
Vine-strings a hundred feet long hang down from
carved railings,
And high over the willows, the fine birds sing to
each other, and listen,
Crying—'Kwan, Kuan,' for the early wind, and the
feel of it.
The wind bundles itself into a bluish cloud and
wanders off.
Over a thousand gates, over a thousand doors are
the sounds of spring singing,

And the Emperor is at Ko.
Five clouds hang aloft, bright on the purple sky,
The imperial guards come forth from the golden
house with their armour a-gleaming.
The Emperor in his jewelled car goes out to inspect
his flowers,
He goes out to Hori, to look at the wing-flapping
storks,
He returns by way of Sei rock, to hear the new
nightingales,
For the gardens at Jo-run are full of new nighting-
gales,
Their sound is mixed in this flute,
Their voice is in the twelve pipes here.
The Cold Clear Spring At Nanyang

A pity it is evening, yet
I do love the water of this spring
seeing how clear it is, how clean;
rays of sunset gleam on it,
lighting up its ripples, making it
one with those who travel
the roads; I turn and face
the moon; sing it a song, then
listen to the sound of the wind
amongst the pines.

The Ching-Ting Mountain

Flocks of birds have flown high and away;
A solitary drift of cloud, too, has gone, wandering on.
And I sit alone with the Ching-ting Peak, towering beyond.
We never grow tired of each other, the mountain and I.


Summer Day in the Mountains

In a copse of green pines,
I fling my hat on a rockspur,
hurling after it
the rest of my clothes.

Stretched at ease on soft grass,
lazily, I flick a white-feather fan,
as a pine breeze plays
in my loose, unknotted hair.

In Spring

Your grasses up north are as blue as jade,
Our mulberries here curve green-threaded branches;
And at last you think of returning home,
Now when my heart is almost broken....
O breeze of the spring, since I dare not know you,
Why part the silk curtains by my bed?


Going Up Yoyang Tower

We climbed Yoyang Tower with
all the scene around coming
into vision; looking up the
Great River seeing boats turn
and enter the Tungting Lake; geese
crying farewell to the river
as they flew south; evening falling
as if mountain tops upt up the moon
with their lips; and we in the Yoyang
Tower as if with heads amongst
the cloud, drinking wine as if the cups
came from heaven itself; then
having drunk our fill there blew
a cold wind filling out our
sleeves, it seeming as though
we were dancing in time with it.


Clearing at Dawn

The fields are chill, the sparse rain has stopped;
The colours of Spring teem on every side.
With leaping fish the blue pond is full;
With singing thrushes the green boughs droop.
The flowers of the field have dabbled their powdered cheeks;
The mountain grasses are bent level at the waist.
By the bamboo stream the last fragment of cloud
Blown by the wind slowly scatters away.

A Song Of Changgan

My hair had hardly covered my forehead.
I was picking flowers, paying by my door,
When you, my lover, on a bamboo horse,
Came trotting in circles and throwing green plums.
We lived near together on a lane in Ch'ang-kan,
Both of us young and happy-hearted.

...At fourteen I became your wife,
So bashful that I dared not smile,
And I lowered my head toward a dark corner
And would not turn to your thousand calls;
But at fifteen I straightened my brows and laughed,
Learning that no dust could ever seal our love,
That even unto death I would await you by my post
And would never lose heart in the tower of silent watching.

...Then when I was sixteen, you left on a long journey
Through the Gorges of Ch'u-t'ang, of rock and whirling water.
And then came the Fifth-month, more than I could bear,
And I tried to hear the monkeys in your lofty far-off sky.
Your footprints by our door, where I had watched you go,
Were hidden, every one of them, under green moss,
Hidden under moss too deep to sweep away.
And the first autumn wind added fallen leaves.
And now, in the Eighth-month, yellowing butterflies
Hover, two by two, in our west-garden grasses
And, because of all this, my heart is breaking
And I fear for my bright cheeks, lest they fade.

...Oh, at last, when you return through the three Pa districts,
Send me a message home ahead!
And I will come and meet you and will never mind the distance,
All the way to Chang-feng Sha.