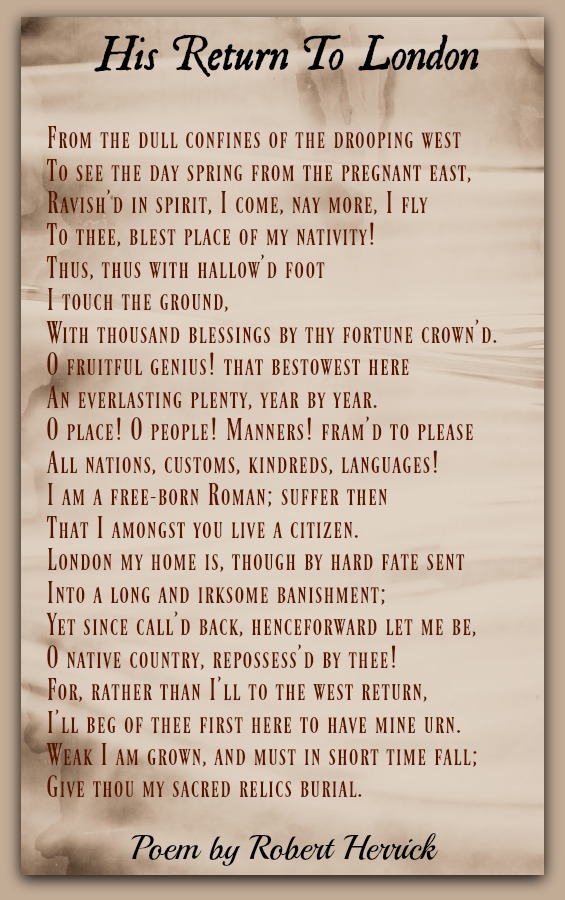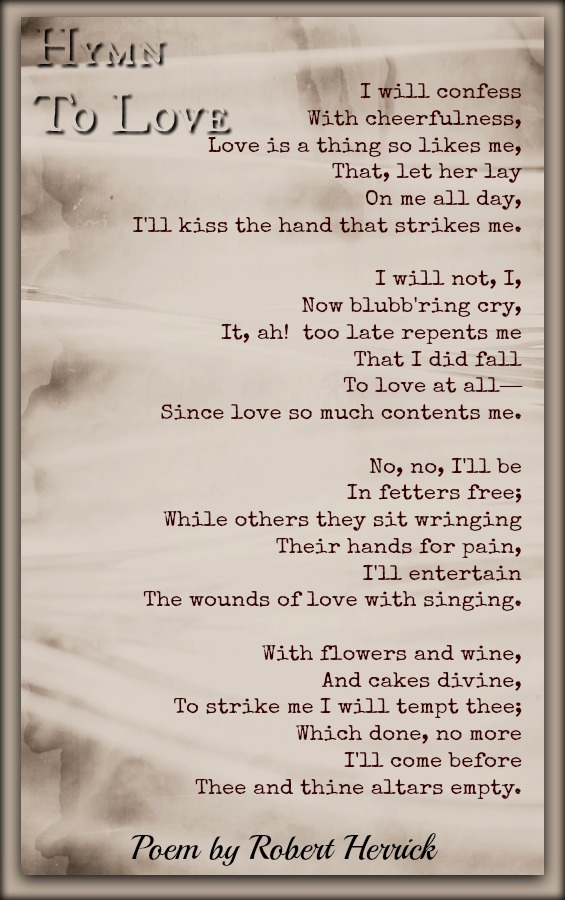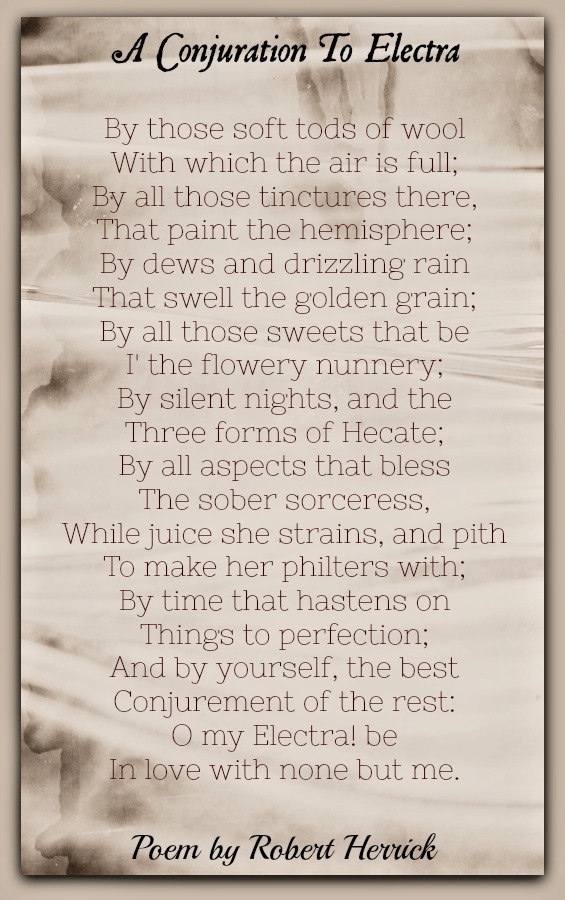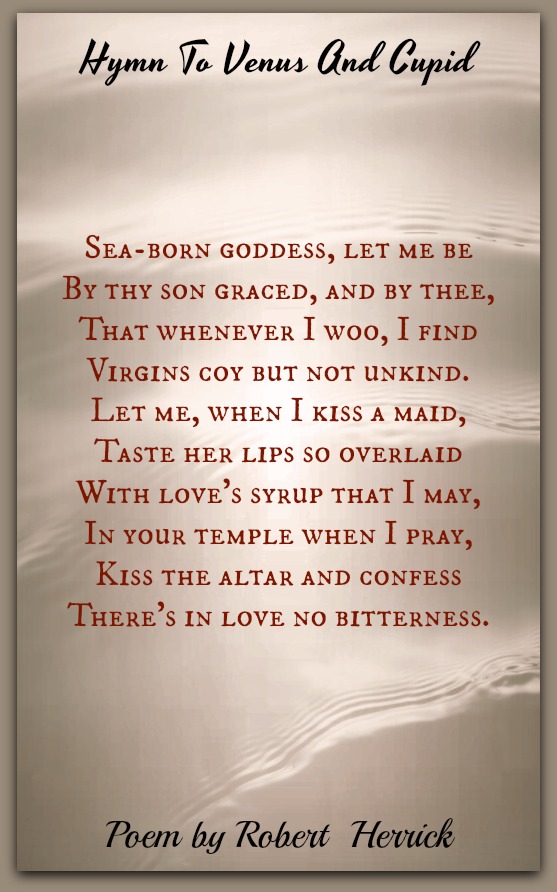 A Meditation for His Mistress

You are a tulip seen today,
But (Dearest) of so short a stay;
That where you grew, scarce man can say.

You are a lovely July-flower,
Yet one rude wind, or ruffling shower,
Will force you hence, (and in an hour.)

You are a sparkling Rose i'th'bud,
Yet lost, ere that chaste flesh and blood
Can show where you or grew, or stood.

You are a full-spread fair-set Vine,
And can with Tendrils love entwine,
Yet dried, ere you distill your Wine.

You are like Balm enclosed (well)
In Amber, or some Crystal shell,
Yet lost, ere you transfuse your smell.

You are a dainty Violet,
Yet withered, ere you can be set
Within the Virgin's Coronet.

You are the Queen all flowers among,
But die you must (fair Maid) ere long,
As He, the maker of this song.

Crutches

Thou see'st me, Lucia, this year droop;
Three zodiacs fill'd more, I shall stoop;
Let crutches then provided be
To shore up my debility:
Then, while thou laugh'st, I'll sighing cry,
A ruin underpropt am I:
Don will I then my beadsman's gown;
And when so feeble I am grown
As my weak shoulders cannot bear
The burden of a grasshopper;
Yet with the bench of aged sires,
When I and they keep termly fires,
With my weak voice I'll sing, or say
Some odes I made of Lucia;—
Then will I heave my wither'd hand
To Jove the mighty, for to stand
Thy faithful friend, and to pour down
Upon thee many a benison.


Comfort To A Youth That Had Lost His Love

What needs complaints,
When she a place
Has with the race
Of saints?

In endless mirth,
She thinks not on
What's said or done
In earth:

She sees no tears,
Or any tone
Of thy deep groan
She hears;

Nor does she mind,
Or think on't now,
That ever thou
Wast kind:—

But changed above,
She likes not there,
As she did here,
Thy love.

—Forbear, therefore,
And lull asleep
Thy woes, and weep
No more.

Eternity

O years! and age! farewell:
Behold I go,
Where I do know
Infinity to dwell.

And these mine eyes shall see
All times, how they
Are lost i' th' sea
Of vast eternity:—

Where never moon shall sway
The stars; but she,
And night, shall be
Drown'd in one endless day.


His Poetry His Pillar

Only a little more
I have to write:
Then I'll give o'er,
And bid the world good-night.

'Tis but a flying minute,
That I must stay,
Or linger in it:
And then I must away.

O Time, that cut'st down all,
And scarce leav'st here
Memorial
Of any men that were;

—How many lie forgot
In vaults beneath,
And piece-meal rot
Without a fame in death?

Behold this living stone
I rear for me,
Ne'er to be thrown
Down, envious Time, by thee.

Pillars let some set up
If so they please;
Here is my hope,
And my Pyramides.

His Wish To God

I would to God, that mine old age might have
Before my last, but here a living grave;
Some one poor almshouse, there to lie, or stir,
Ghost-like, as in my meaner sepulchre;
A little piggin, and a pipkin by,
To hold things fitting my necessity,
Which, rightly us'd, both in their time and place,
Might me excite to fore, and after, grace.
Thy cross, my Christ, fix'd 'fore mine eyes should be,
Not to adore that, but to worship Thee.
So here the remnant of my days I'd spend,
Reading Thy bible, and my book; so end.

How His Soul Came Ensnared

My soul would one day go and seek
For roses, and in Julia's cheek
A richess of those sweets she found,
As in another Rosamond;
But gathering roses as she was,
Not knowing what would come to pass,
it chanced a ringlet of her hair
Caught my poor soul, as in a snare;
Which ever since has been in thrall;
—Yet freedom she enjoys withal.


Hymn To The Graces

When I love, as some have told
Love I shall, when I am old,
O ye Graces! make me fit
For the welcoming of it!
Clean my rooms, as temples be,
To entertain that deity;
Give me words wherewith to woo,
Suppling and successful too;
Winning postures; and withal,
Manners each way musical;
Sweetness to allay my sour
And unsmooth behaviour:
For I know you have the skill
Vines to prune, though not to kill;
And of any wood ye see,
You can make a Mercury.

Love Lightly Pleased

Let fair or foul my mistress be,
Or low, or tall, she pleaseth me;
Or let her walk, or stand, or sit,
The posture her's, I'm pleased with it;
Or let her tongue be still, or stir
Graceful is every thing from her;
Or let her grant, or else deny,
My love will fit each history.

No Loathsomeness in Love


What I fancy I approve,
No dislike there is in love:
Be my mistress short or tall,
And distorted therewithal:
Be she likewise one of those,
That an acre hath of nose:
Be her forehead and her eyes
Full of incongruities:
Be her cheeks so shallow too,
As to show her tongue wag through:
Be her lips ill hung, or set,
And her grinders black as jet;
Has she thin hair, hath she none,
She's to me a paragon.


Pray And Prosper

First offer incense; then, thy field and meads
Shall smile and smell the better by thy beads.
The spangling dew dredged o'er the grass shall be
Turn'd all to mell and manna there for thee.
Butter of amber, cream, and wine, and oil,
Shall run as rivers all throughout thy soil.
Would'st thou to sincere silver turn thy mould?
—Pray once, twice pray; and turn thy ground to gold.


Request To The Graces

Ponder my words, if so any be
Known guilty here of incivility,
Let what is graceless, discomposed, and rude,
With sweetness, smoothness, softness be endued.
Teach it to blush, to curtsy, lisp, and show
Demure but yet full of temptation, too.
Numbers ne'er tickle, or but lightly please,
Unless they have some wanton carriages:--
This if ye do, each piece will here be good
And graceful made by your neat sisterhood.


Purpose

No wrath of men, or rage of seas,
Can shake a just man's purposes;
No threats of tyrants, or the grim
Visage of them can alter him;
But what he doth at first intend,
That he holds firmly to the end.


On Julia's Voice

So smooth, so sweet, so silvery is thy voice,
As, could they hear, the Damned would make no noise,
But listen to thee, walking in thy chamber,
Melting melodious words to lutes of amber.

Sweet Spirit Comfort Me

In the hours of my distress,
When temptations me oppress,
And when I my sins confess
Sweet Spirit, comfort me!

When I lie within my bed,
Sick in heart and sick in head,
And with doubts discomforted,
Sweet Spirit, comfort me!

When the house doth sigh and weep,
And the world is drowned in sleep,
Yet mine eyes the watch do keep,
Sweet Spirit, comfort me!


The Wake

Come, Anthea, let us two
Go to feast, as others do:
Tarts and custards, creams and cakes,
Are the junkets still at wakes;
Unto which the tribes resort,
Where the business is the sport:
Morris-dancers thou shalt see,
Marian, too, in pageantry;
And a mimic to devise
Many grinning properties.
Players there will be, and those
Base in action as in clothes;
Yet with strutting they will please
The incurious villages.
Near the dying of the day
There will be a cudgel-play,
Where a coxcomb will be broke,
Ere a good word can be spoke:
But the anger ends all here,
Drench'd in ale, or drown'd in beer.
—Happy rusticks! best content
With the cheapest merriment;
And possess no other fear,
Than to want the Wake next year.