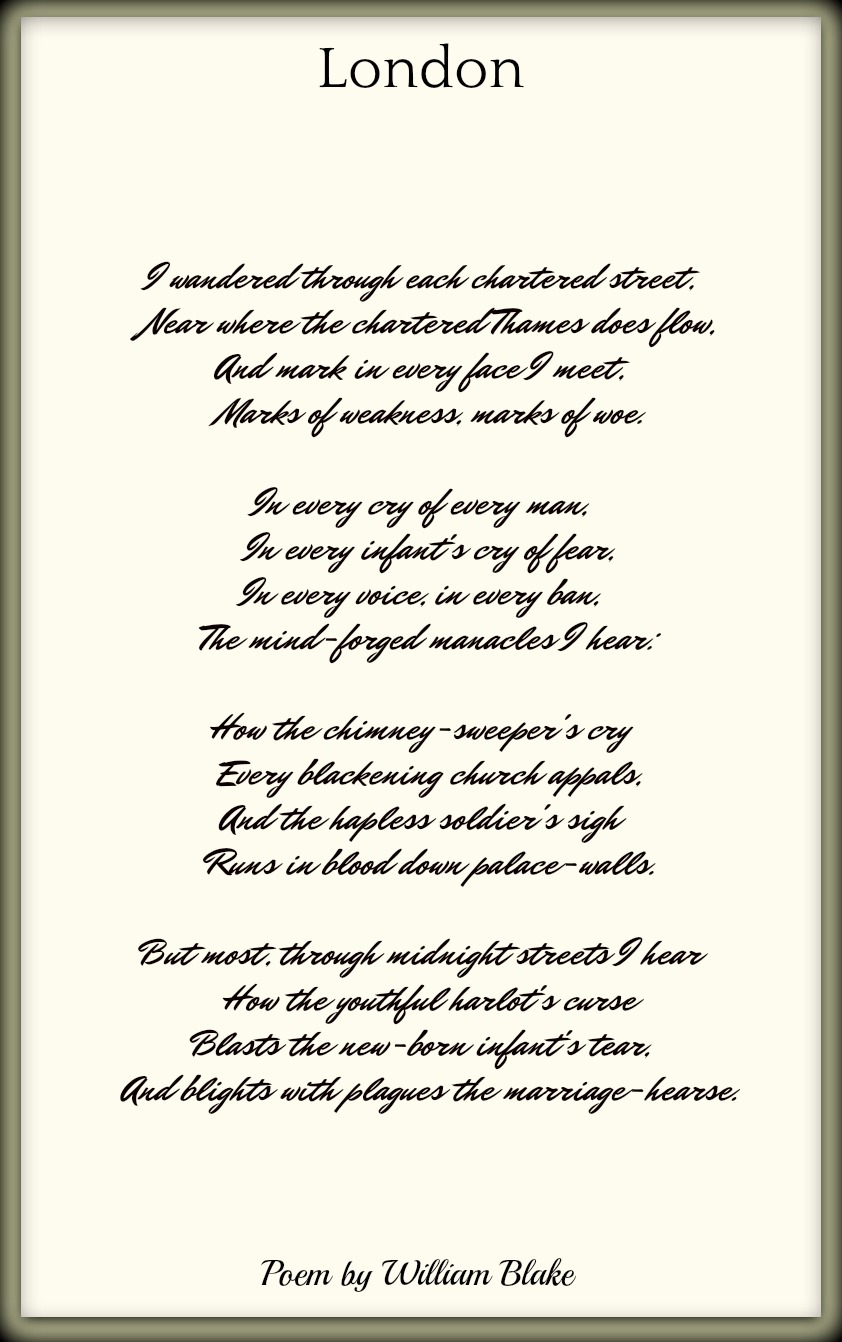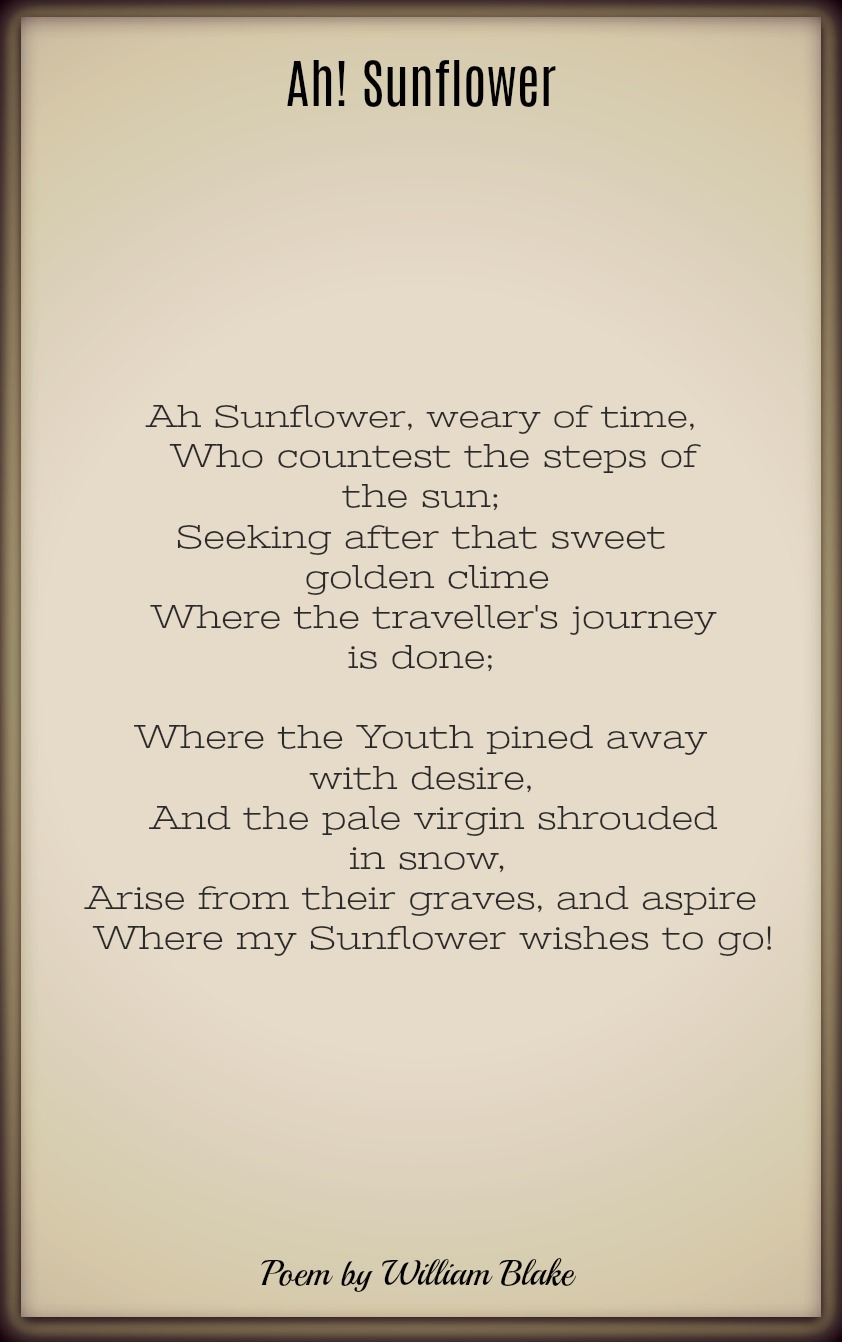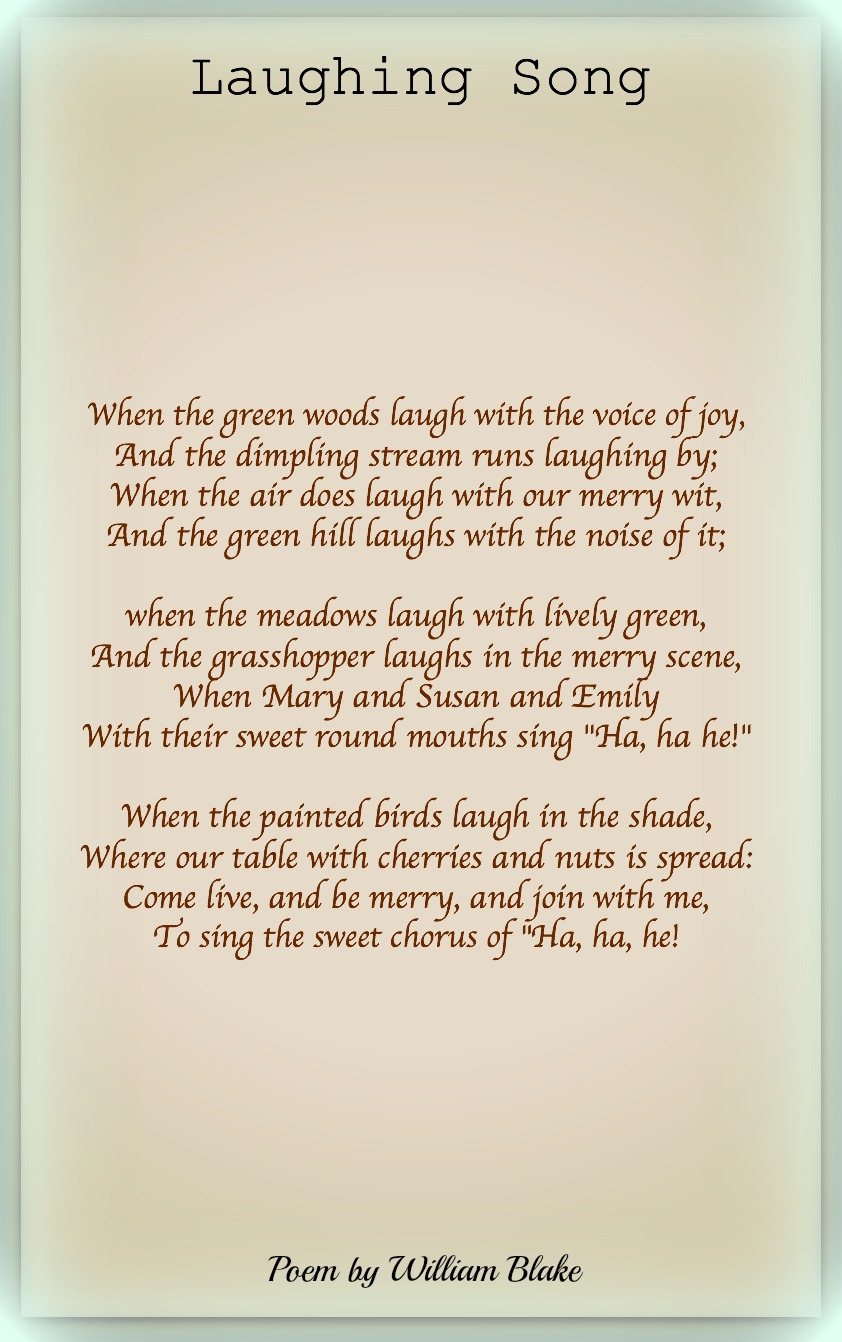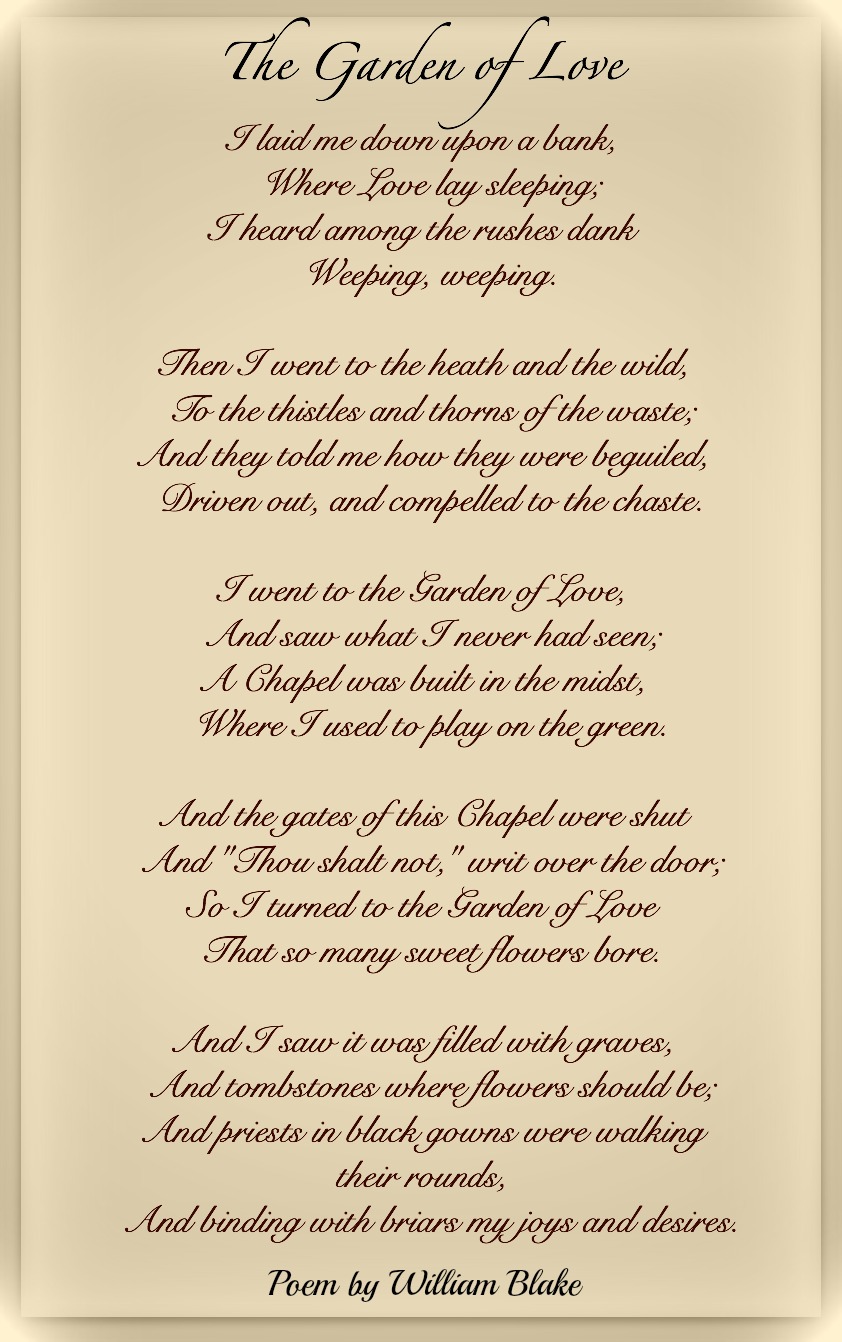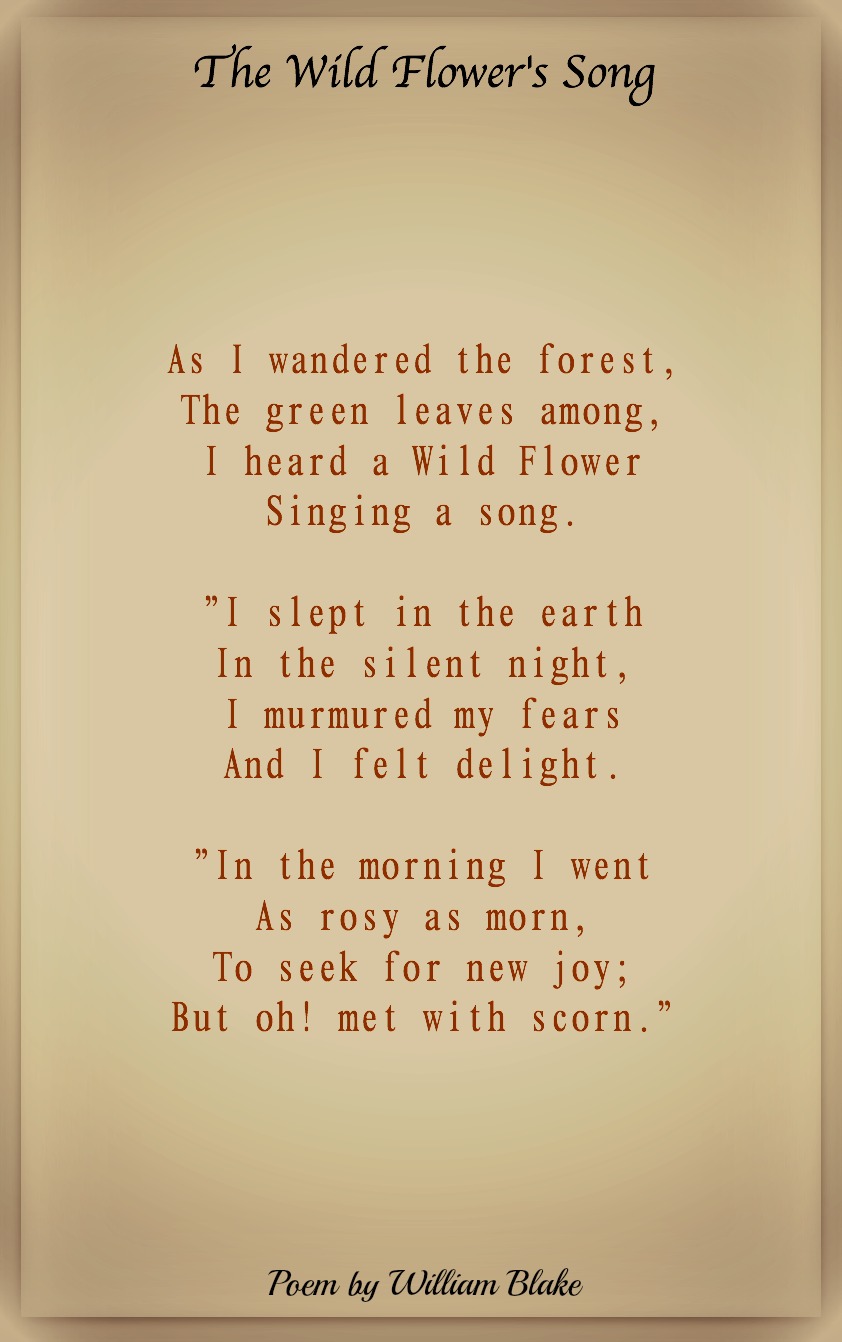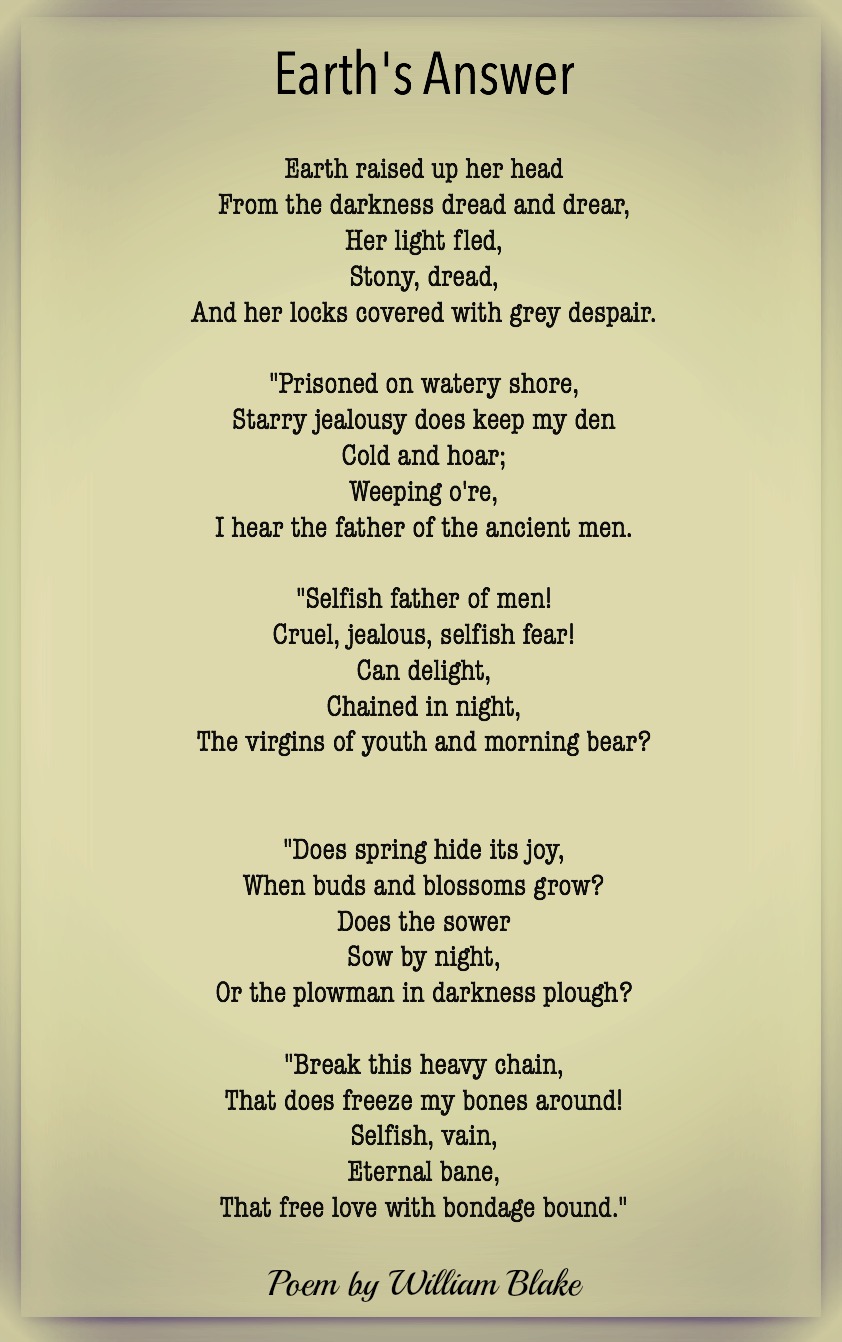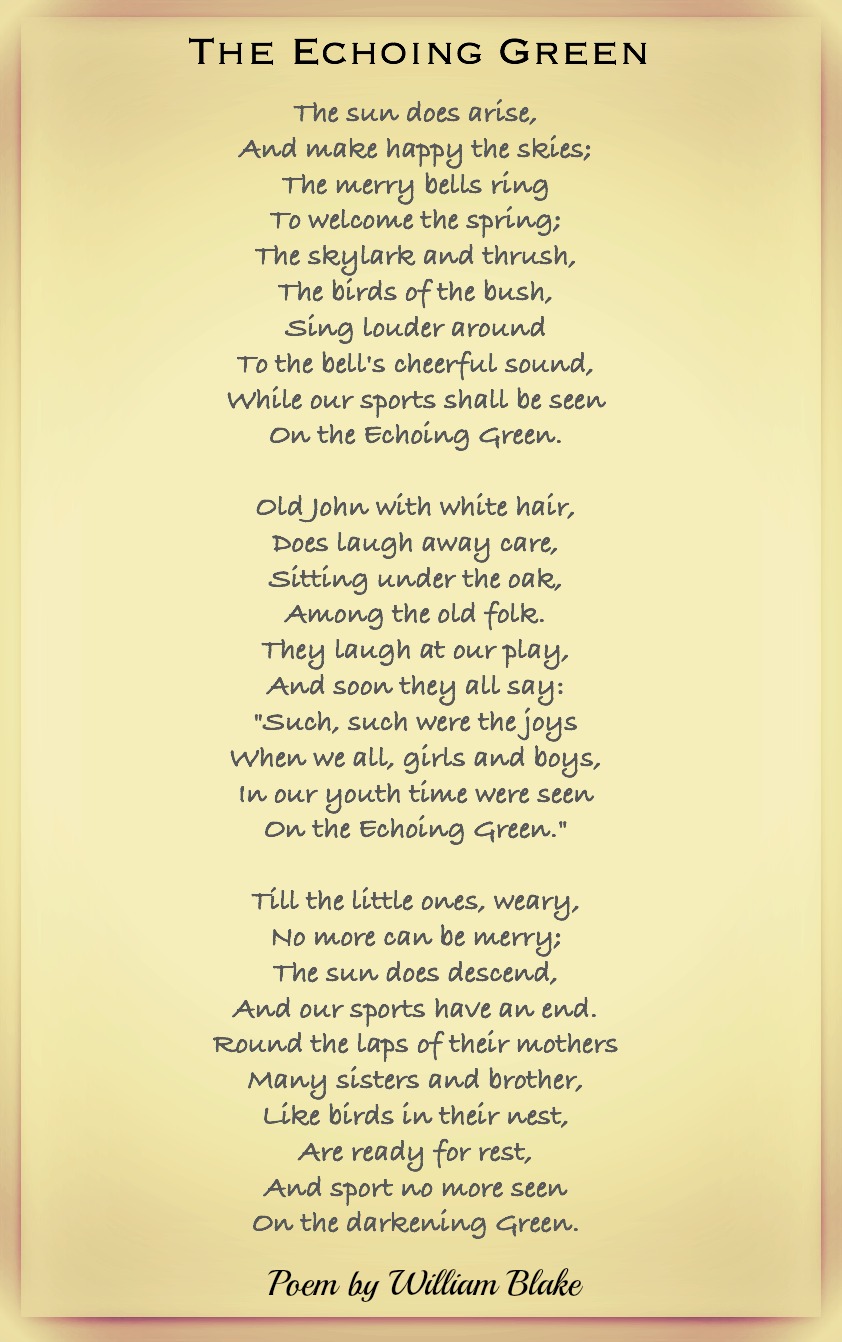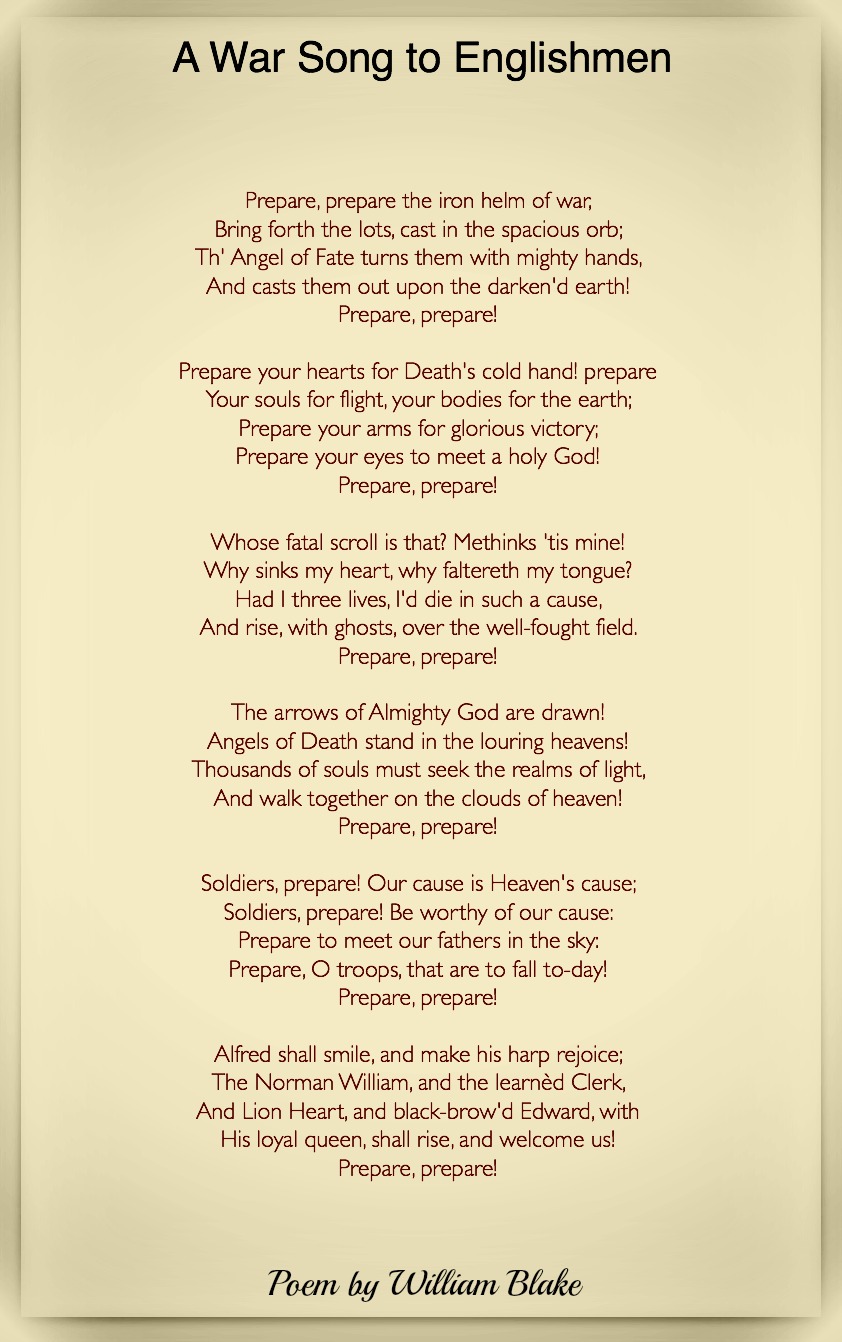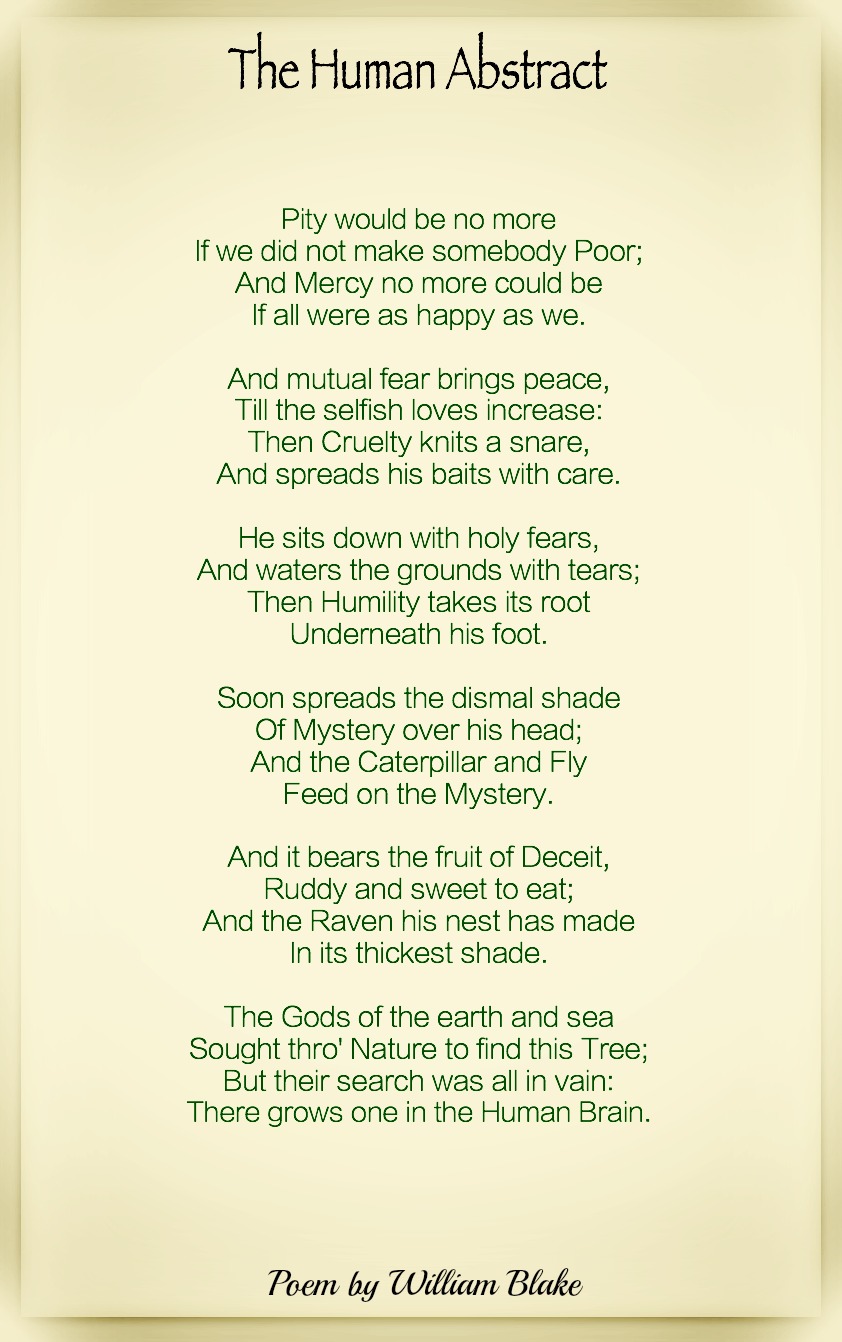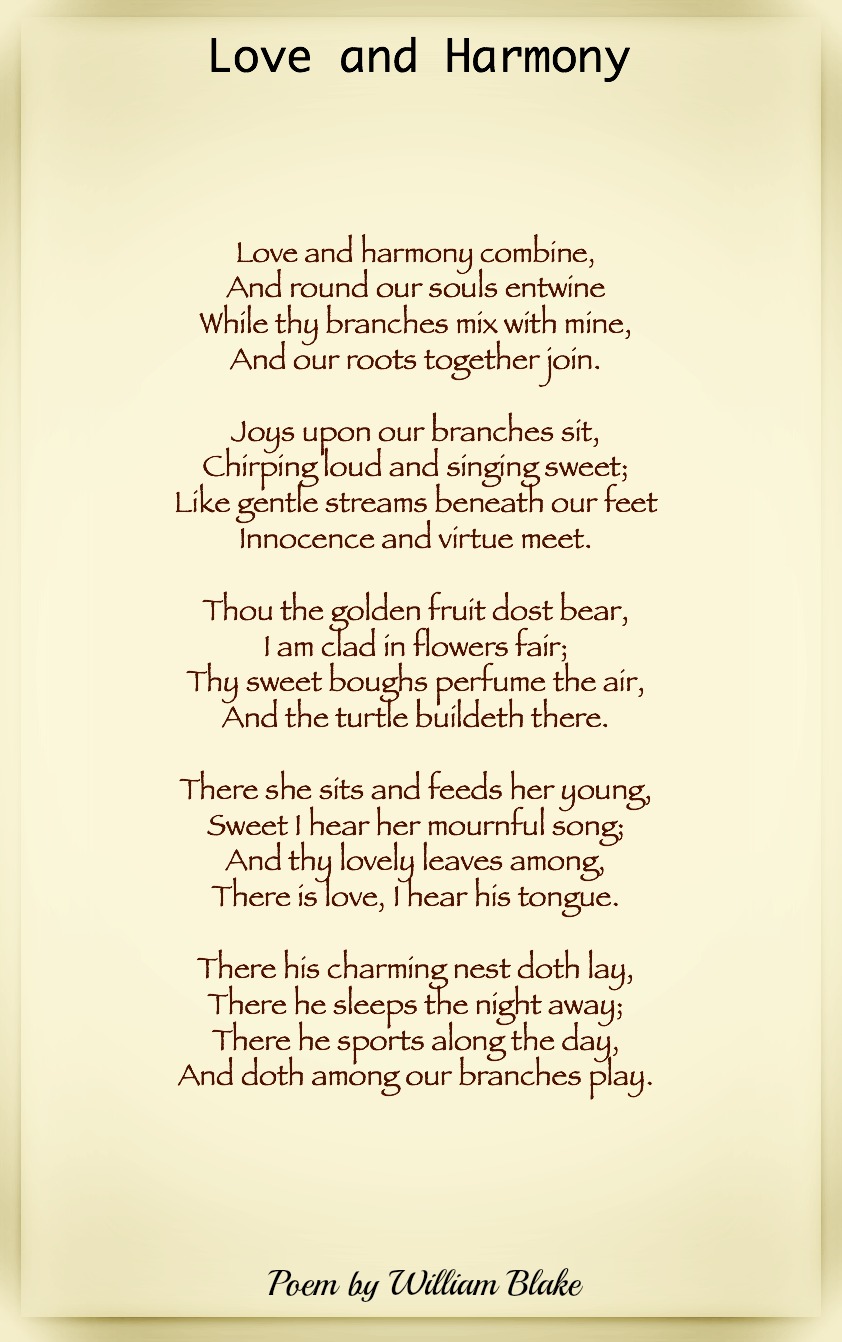 The Smile

There is a smile of Love
And there is a Smile of Deceit
And there is a Smile of Smiles
In which these two Smiles meet

And there is a Frown of Hate
And there is a Frown of Disdain
And there is a Frown of Frowns
Which you strive to forget in vain

For it sticks in the Hearts deep Core
And it sticks in the deep Back bone
And no Smile that ever was smild
But only one Smile alone

That betwixt the Cradle & Grave
It only once Smild can be
But when it once is Smild
Theres an end to all Misery

A Little Girl Lost

Children of the future age,
Reading this indignant page,
Know that in a former time
Love, sweet love, was thought a crime.

In the age of gold,
Free from winter's cold,
Youth and maiden bright,
To the holy light,
Naked in the sunny beams delight.

Once a youthful pair,
Filled with softest care,
Met in garden bright
Where the holy light
Had just removed the curtains of the night.

Then, in rising day,
On the grass they play;
Parents were afar,
Strangers came not near,
And the maiden soon forgot her fear.

Tired with kisses sweet,
They agree to meet
When the silent sleep
Waves o'er heaven's deep,
And the weary tired wanderers weep.

To her father white
Came the maiden bright;
But his loving look,
Like the holy book
All her tender limbs with terror shook.

"Ona, pale and weak,
To thy father speak!
Oh the trembling fear!
Oh the dismal care
That shakes the blossoms of my hoary hair!"

I See The Four-fold Man

I see the Four-fold Man, The Humanity in deadly sleep
And its fallen Emanation, the Spectre and its cruel Shadow.
I see the Past, Present and Future existing all at once
Before me. O Divine Spirit, sustain me on thy wings,
That I may awake Albion from his long and cold repose;
For Bacon and Newton, sheath'd in dismal steel, their terrors hang
Like iron scourges over Albion: reasonings like vast serpents
Infold around my limbs, bruising my minute articulations.

I turn my eyes to the schools and universities of Europe
And there behold the Loom of Locke, whose Woof rages dire,
Wash'd by the Water-wheels of Newton: black the cloth
In heavy wreaths folds over every nation: cruel works
Of many Wheels I view, wheel without wheel, with cogs tyrannic
Moving by compulsion each other, not as those in Eden, which,
Wheel within wheel, in freedom revolve in harmony and peace.

The Tyger

Tyger! Tyger! burning bright
In the forest of the night
What immortal hand or eye
Could frame thy fearful symmetry?

In what distant deeps or skies
Burnt the fire of thine eyes?
On what wings dare he aspire?
What the hand dare seize the fire?

And what shoulder, and what art,
Could twist the sinews of thy heart?
And when thy heart began to beat,
What dread hand? and what dread feet?

What the hammer? what the chain?
In what furnace was thy brain?
What the anvil? what dread grasp
Dare its deadly terrors clasp?

When the stars threw down their spears,
And watered heaven with their tears,
Did he smile his work to see?
Did he who made the lamb make thee?

Tyger! Tyger! burning bright
In the forests of the night,
What immortal hand or eye
Dare frame thy fearful symmetry?

The Divine Image

TO Mercy, Pity, Peace, and Love
All pray in their distress;
And to these virtues of delight
Return their thankfulness.

For Mercy, Pity, Peace, and Love
Is God, our Father dear,
And Mercy, Pity, Peace, and Love
Is man, His child and care.

For Mercy has a human heart,
Pity a human face,
And Love, the human form divine,
And Peace, the human dress.

Then every man, of every clime,
That prays in his distress,
Prays to the human form divine,
Love, Mercy, Pity, Peace.

And all must love the human form,
In heathen, Turk, or Jew;
Where Mercy, Love, and Pity dwell
There God is dwelling too.

Infant Joy

"I have no name;
I am but two days old."
What shall I call thee?
"I happy am,
Joy is my name."
Sweet joy befall thee!

Pretty joy!
Sweet joy, but two days old.
Sweet Joy I call thee:
Thou dost smile,
I sing the while;
Sweet joy befall thee!

A Poison Tree

I was angry with my friend:
I told my wrath, my wrath did end.
I was angry with my foe:
I told it not, my wrath did grow.

And I watered it in fears,
Night and morning with my tears;
And I sunned it with smiles,
And with soft deceitful wiles.

And it grew both day and night,
Till it bore an apple bright.
And my foe beheld it shine.
And he knew that it was mine,

And into my garden stole
When the night had veiled the pole;
In the morning glad I see
My foe outstretched beneath the tree.

The Sick Rose

O Rose, thou art sick!
The invisible worm
That flies in the night,
In the howling storm,
Has found out thy bed
Of crimson joy:
And his dark secret love
Does thy life destroy.

Why Should I Care for the Men of Thames

Why should I care for the men of thames
Or the cheating waves of charter'd streams
Or shrink at the little blasts of fear
That the hireling blows into my ear

Tho born on the cheating banks of Thames
Tho his waters bathed my infant limbs
The Ohio shall wash his stains from me
I was born a slave but I go to be free.

Now Art Has Lost Its Mental Charms

`Now Art has lost its mental charms
France shall subdue the world in arms.'
So spoke an Angel at my birth;
Then said `Descend thou upon earth,
Renew the Arts on Britain's shore,
And France shall fall down and adore.
With works of art their armies meet
And War shall sink beneath thy feet.
But if thy nation Arts refuse,
And if they scorn the immortal Muse,
France shall the arts of peace restore
And save thee from the ungrateful shore.'

Spirit who lov'st Britannia's Isle
Round which the fiends of commerce smile —